How Do I Add a Referral?
Patients require referrals to access specialists and consultant physicians for treatment. In most cases referral information must be included alongside private patient accounts and bulk bill/DVA accounts. They must include:
Relevant clinical information about the patient's condition for investigation, opinion, treatment, and/or management
The date of the referral, and
The signature of the referring practitioner
Referrals do not need to be made out to a specific specialist or consultant physician.
There are two ways to add patient referrals in MediRecords, via the Patient Details Tab and the New Invoice Screen.
Patient Details Tab
All referrals created in MediRecords are stored in the patients demographics tab.
Follow the steps below to create a referral:
Select the Referral tab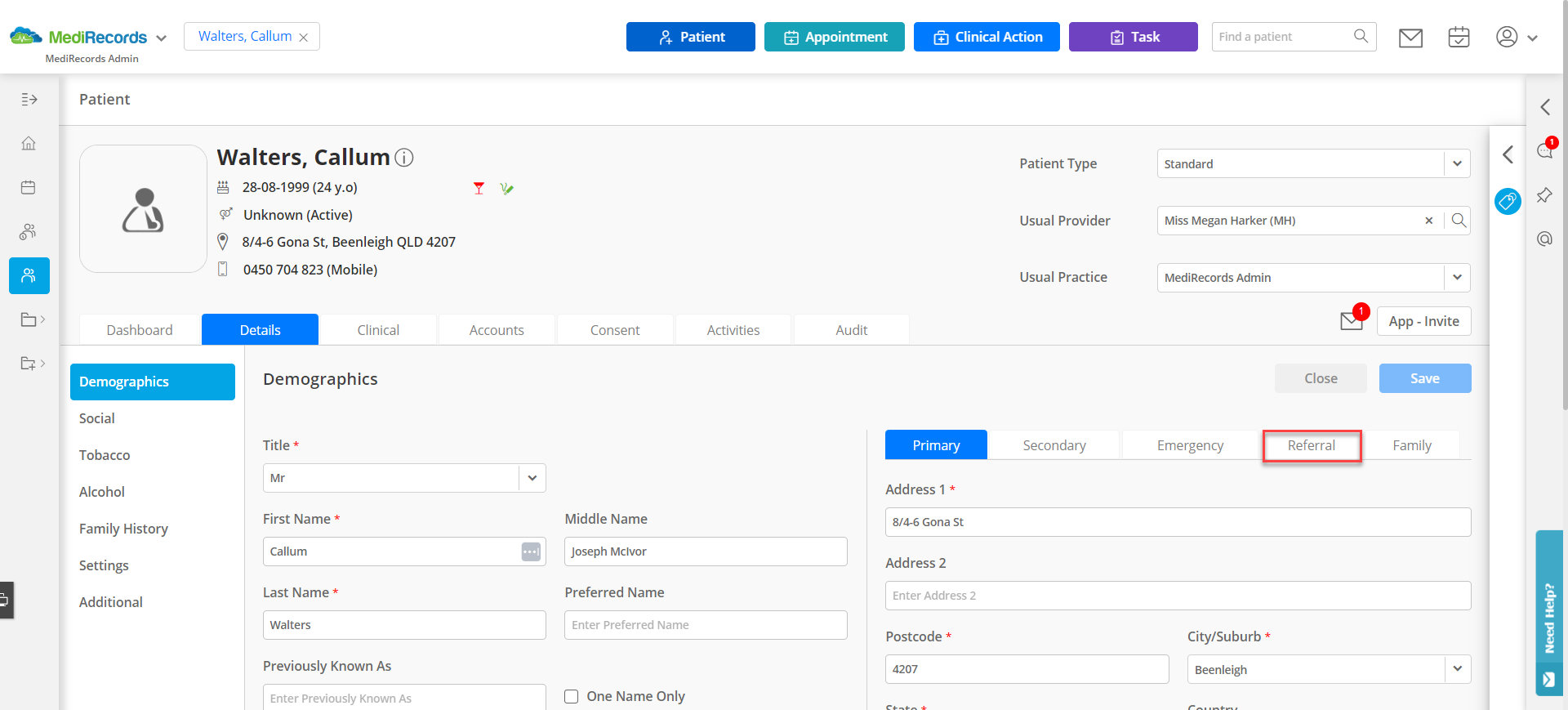 3. To open a new referral form, click the blue plus button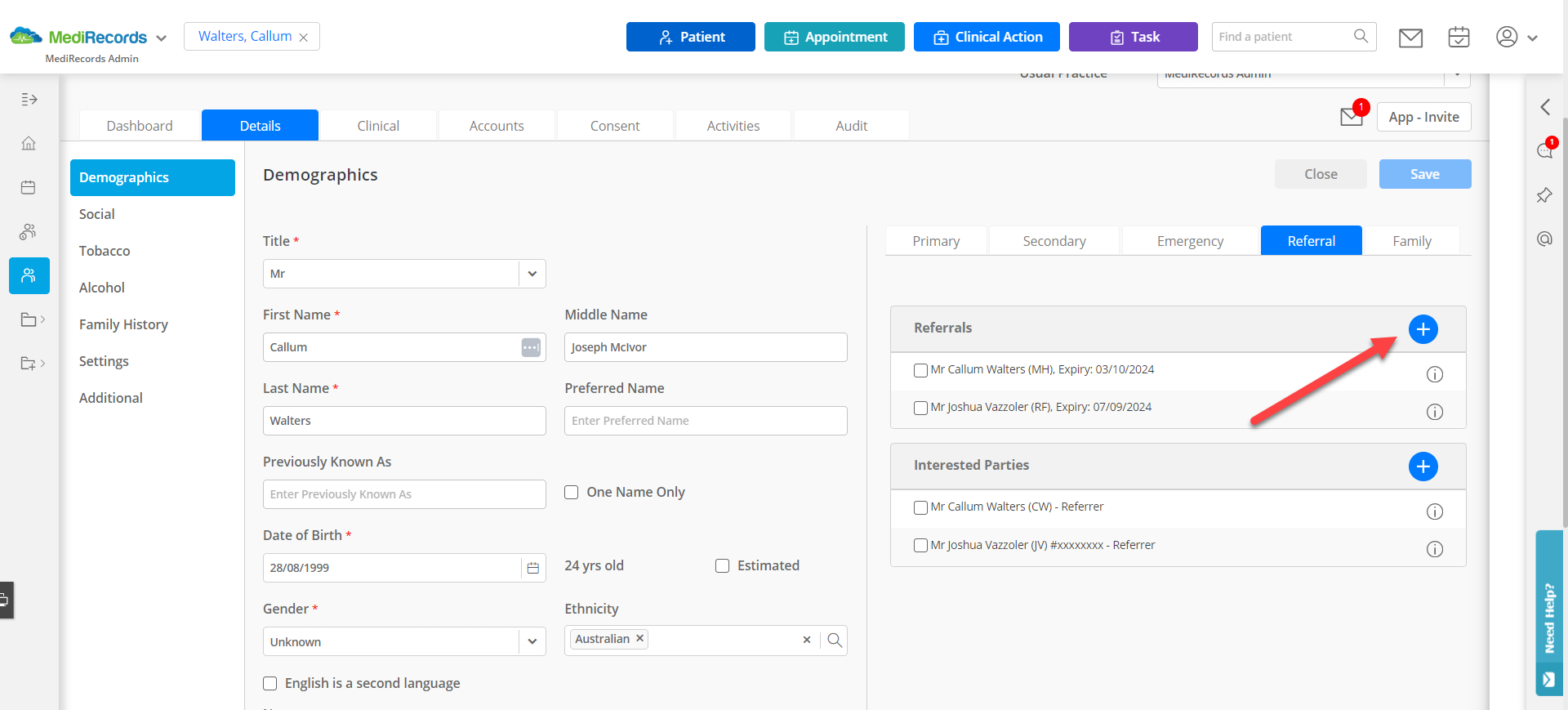 p
4. Complete the referral form with all the required details then save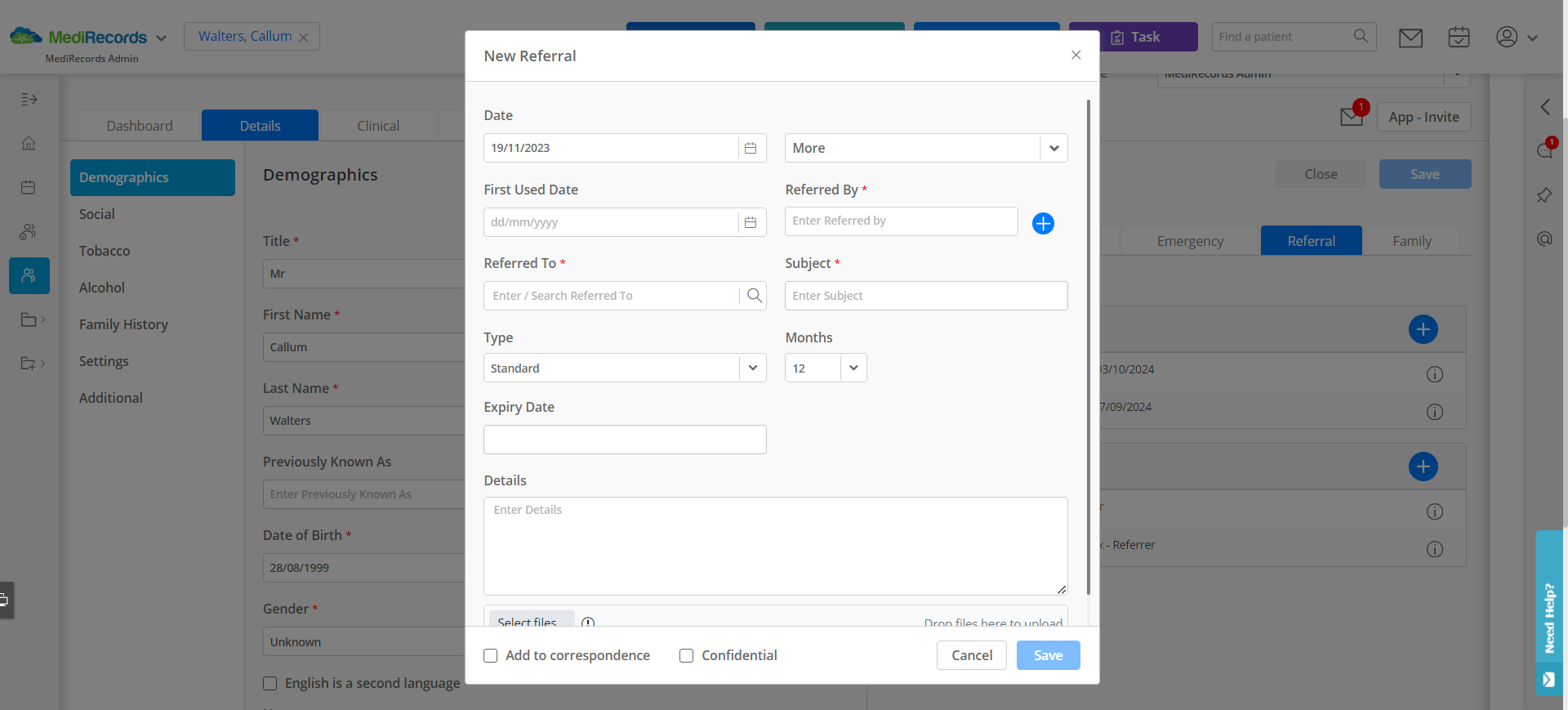 NOTE: (You may also upload a saved PDF, JPEG, or PNG copy of the file under 10mb)
The Date field is the date the referring provider generated the referral
The First Use Date is the date the first service was performed against the referral being entered. This is not mandatory to be filled out if a service has not yet been billed.
The Referred By field holds the name of the referring doctor. Names entered in this field are checked against Health Professionals Contact information and therefore needs to be entered as a contact if not found.
Please refer to How to Add a Health Professional, for further guidance.
The Referred To field searches the list of active users in the system.
The Type of referral entered, paired with the First Use Date generate the expiry date. Unless no First Use Date has been entered, where no expiry date is generated.
CONFIDENTIAL tick box is used only when the referral is to be confidential to the user adding the referral. Once this box is ticked all other users will see the referral as "CONFIDENTIAL"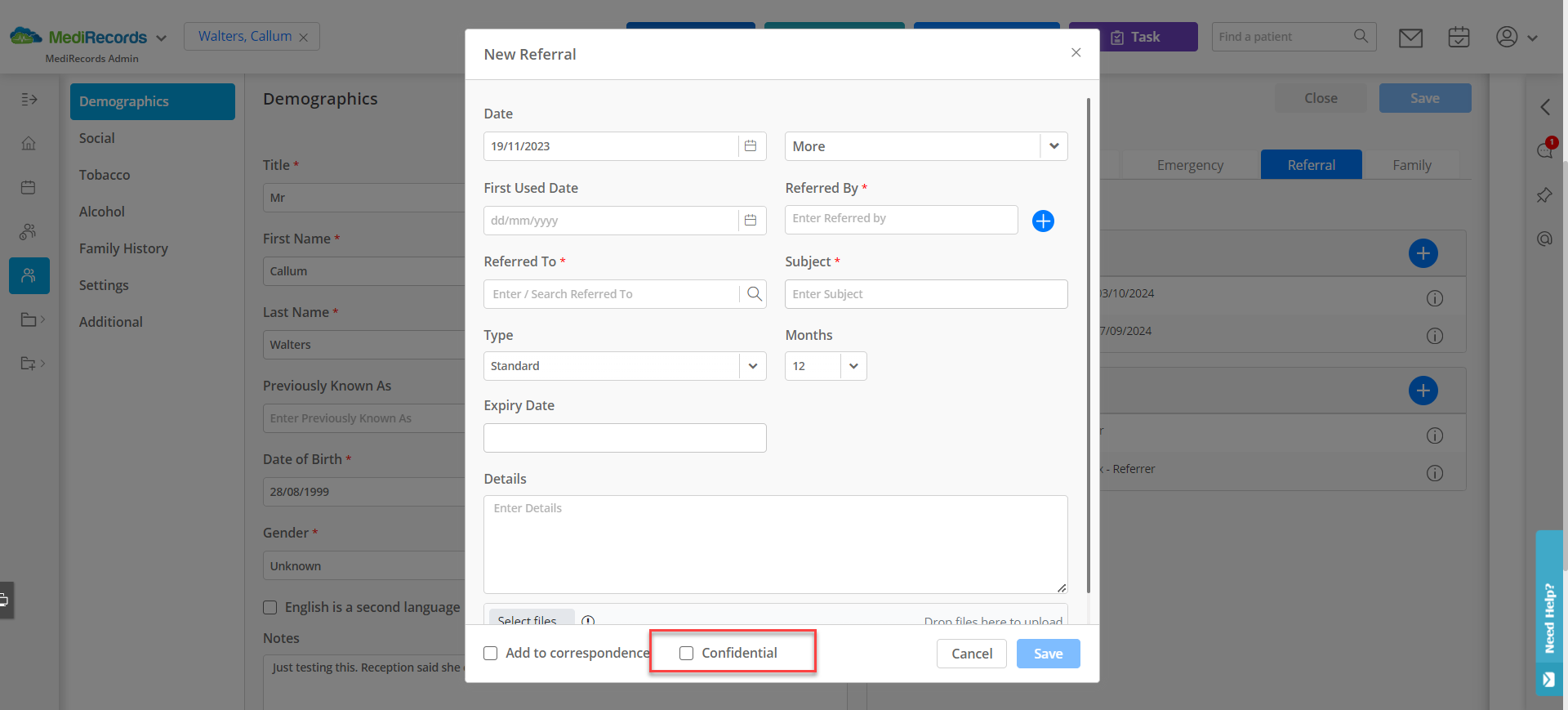 NOTE: Referred to and by fields require at least three characters to be entered before a result is populated.
5. Referral has been created and is saved in the referral tab of the patient demographics
Invoice Screen
Referrals can also be added to the patient record via the Invoice screen.
2. Navigate to the Accounts tab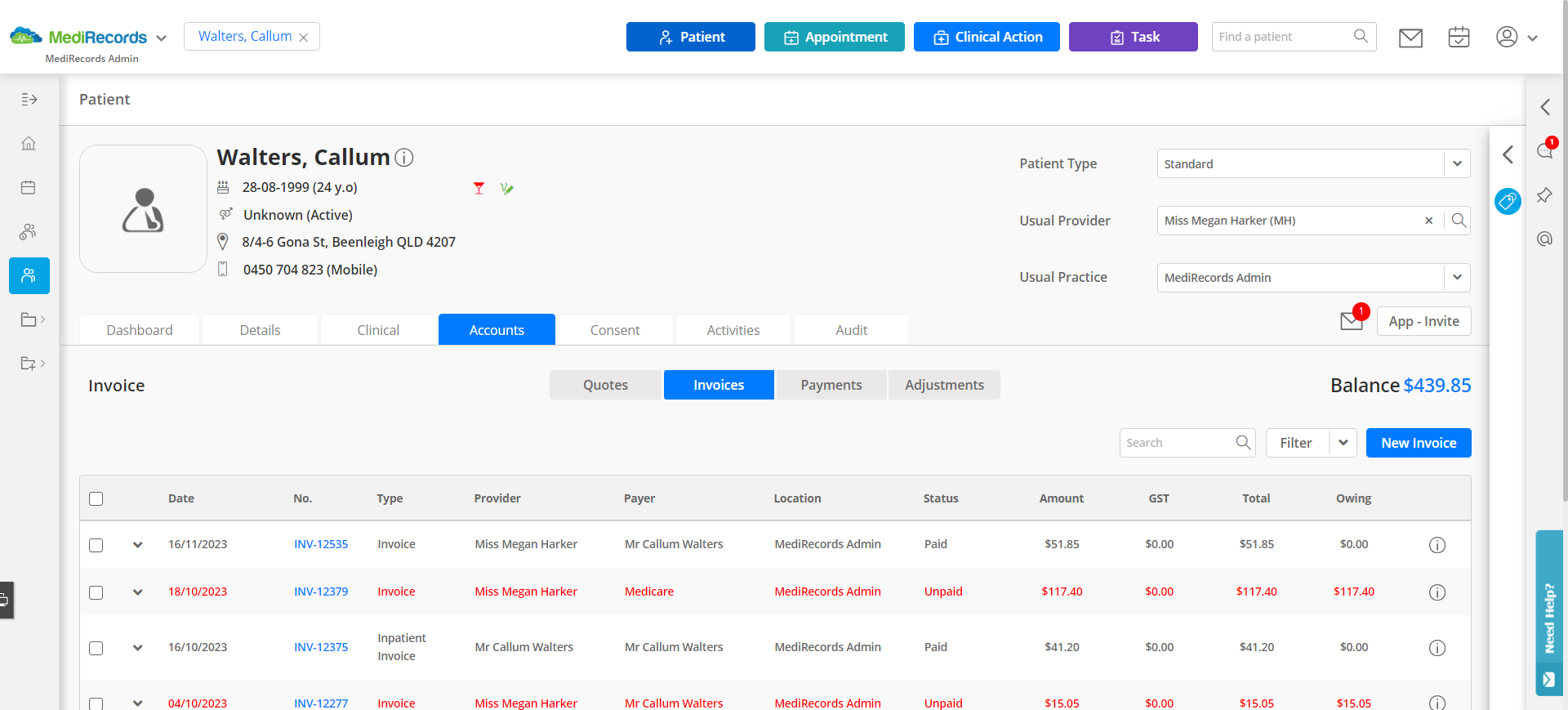 3. Click New Invoice to open up the invoice screen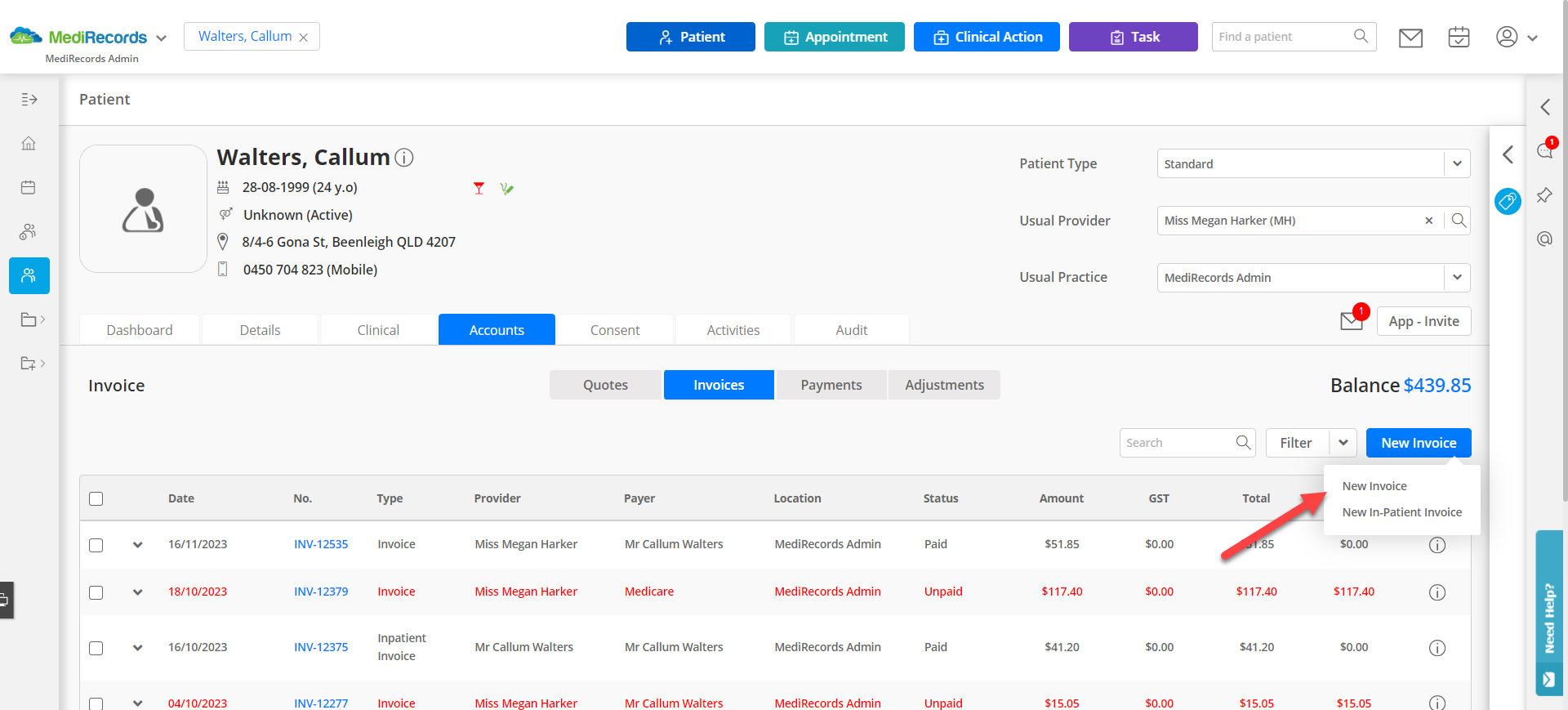 4. To open the add referral form, click the blue plus button next to the referral drop down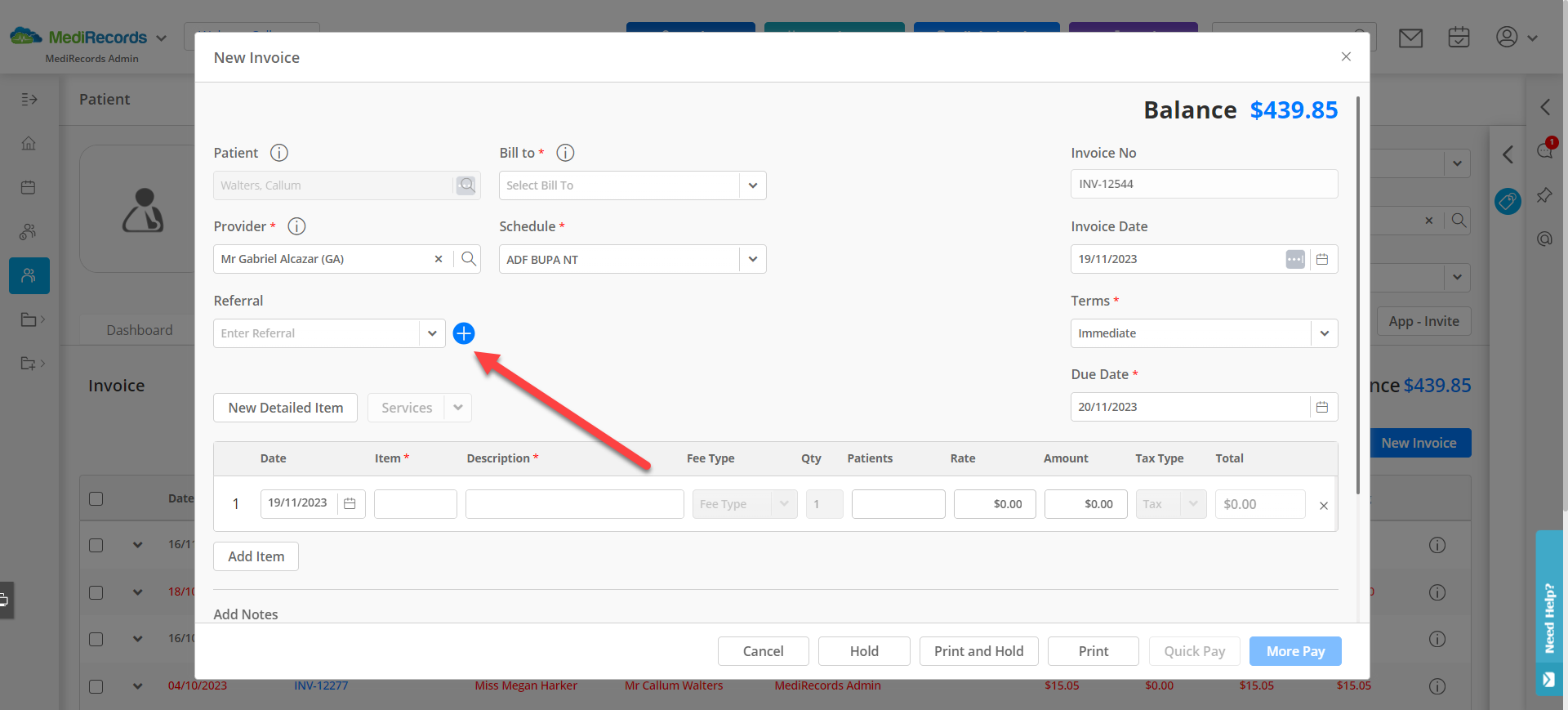 5. Complete the referral form with all the required details as above then save
Once saved the referral will be stored in the patient demographic screen as well as added to the invoice created.