Patient demographics typically relate to the patient's age, gender, nationality, habits, lifestyle choices and family medical history. In MediRecords, patient demographics are divided into five separate categories:
Demographics
Social
Tobacco
Alcohol
Family History
The records for each of these sections are contained within the "Details Tab" of a patient's record.

Patient Record> Details >
Demographics

There are five core demographic fields: :
First Name
Surname
gender
date of birth
Medicare/DVA
There are also primary address details > Secondary > Emergency > Referral details (that allows Interested parties to be included in any correspondence ), so any clinical investigations can be shared across a whole Care Plan of Interested parties or specialist

Patient Record> Details >Social
Record the following Patient details into the section social
Home
Carer or Guardian
Work
Religion
Lifestyle
Education
Notes
Patients Records > Details > Tobacco
Record the patients smoking history , this will be displayed on the patients profile
If the patient has been assessed, an Icon will display in Red if a smoker and Green if a non smoker.


Once the patient has been assessed enter date assessment was completed then select save.
Patients Records > Details > Alcohol
Record the patients relationship with Alcohol, this will be record on the patients profile as a Martini glass.
Red patient recorded as a drinker and Green recorded as a Non drinker.

Patients Records > Details > Family History
Record patient's family history with the following fields
Mother

Father Alive OR Deceased

Family History Details

Patient Record> Details >Settings
The settings in the patient details is a high priority, to ensure details are correct for prescribing and E-prescribing.
Fill in the following patient details
Account Payer

First Name on Medicare card

Surname Alias

Medicare address

Medicare Card No:

Medicare Expiry

Pension card details

DVA card details

Safety net Card details

Health Identifier IHI No: (Patient identifier)

IHI Record Status

ePriscribing

Private Health Insurance details
You can also conduct an OPV check here to validate patients Medicare card details.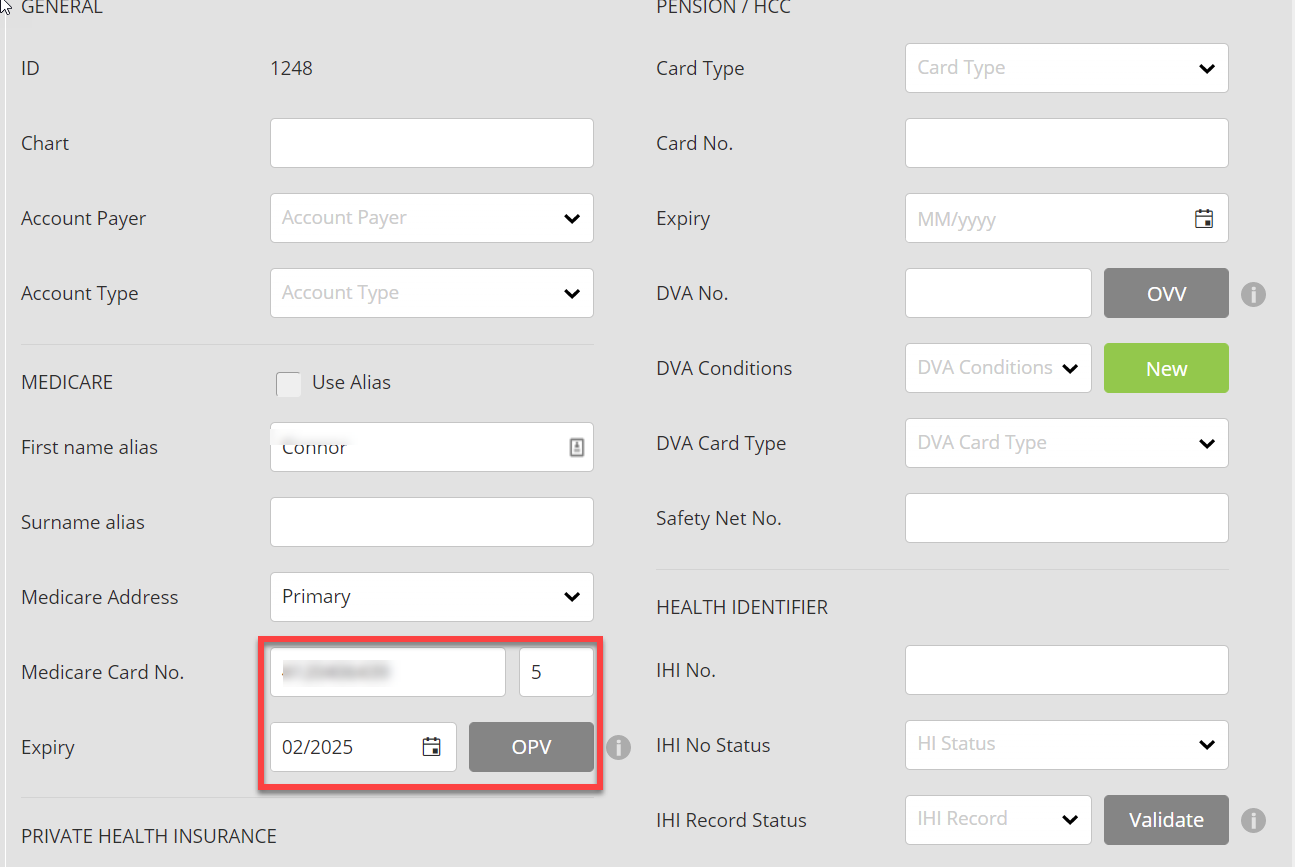 Follow the below link for more Knowledge base articles on this topic