Patient Clinical
This article will provide an introduction on how to access a patient's clinical information via the patient record clinical tab.

How Do I Access a Patient's Clinical Information?

To open a patient's clinical record, navigate to the Patients section of MediRecords, which is available on the MediRecords application ribbon.



Find and open a patient by clicking on the patient's name.



Clinical information is stored in two places within the patient's file. The patient's social, tobacco and alcohol habits, as well as their relevant family history are part of their demographics, and are stored in the Details tab.
For more information about the Details tab, please click here



Other clinical information is stored and updated through the Clinical Tab under their respective category, listed below. For more information about each tab, click on it's title.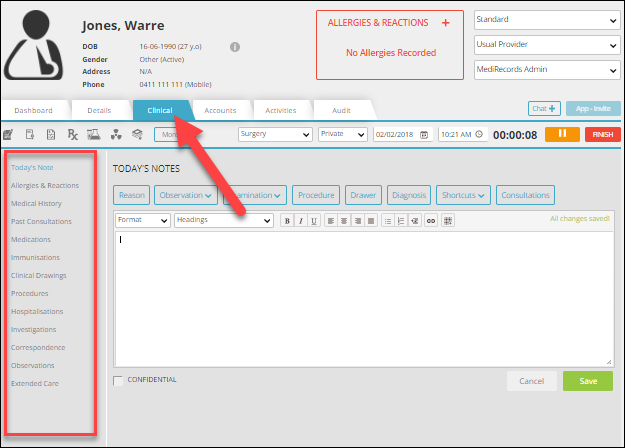 Information about the current consultation with the patient.
Information about the allergies and adverse reactions of the patient.
An archive of a patient's medical history.
Any consultations saved by a Clinician.
A record of current and past medications of the patient
A record of immunisations the patient has recorded.
A record of any clinical images attached to the patient record.
Procedures (Specalist Subscription)
A record of any medical procedures the patient has undertaken and relevant outcomes.
A record of any hospital stays the patient underwent.
A record of pathology and radiology results of the patient.
A record of any correspondence (referrals, medical certificates, care plans, etc.) relating to the patient.
Any observations recorded by a clinician of the patient.
A record of any Extended Primary Care activities regarding the patient.
There are also Quick Actions that can be performed from within the Clinical tab, for writing prescriptions and letters, requesting lab results and accessing information about travel medicines.
For more information about Quick Actions, please click here.



You've completed another MediRecords Tutorial. You should now be familiar with the Clinical Tab in the Patient Record. If this is not what you're looking for, head back to our knowledge base and search for another article.
For urgent assistance, please contact MediRecords support on 1300 103 903 during business hours.