Finalize Account
After a consult has been finished, the provider is able to put together an invoice for the patient to be billed with. This feature is called Finalize Account.
*NOTE: This is for users with Integrated Subscription only.
Finalize Account is not enabled by default and is configured per user.
Activating Finalize Account
From the User Preferences Window:
Click on Invoices.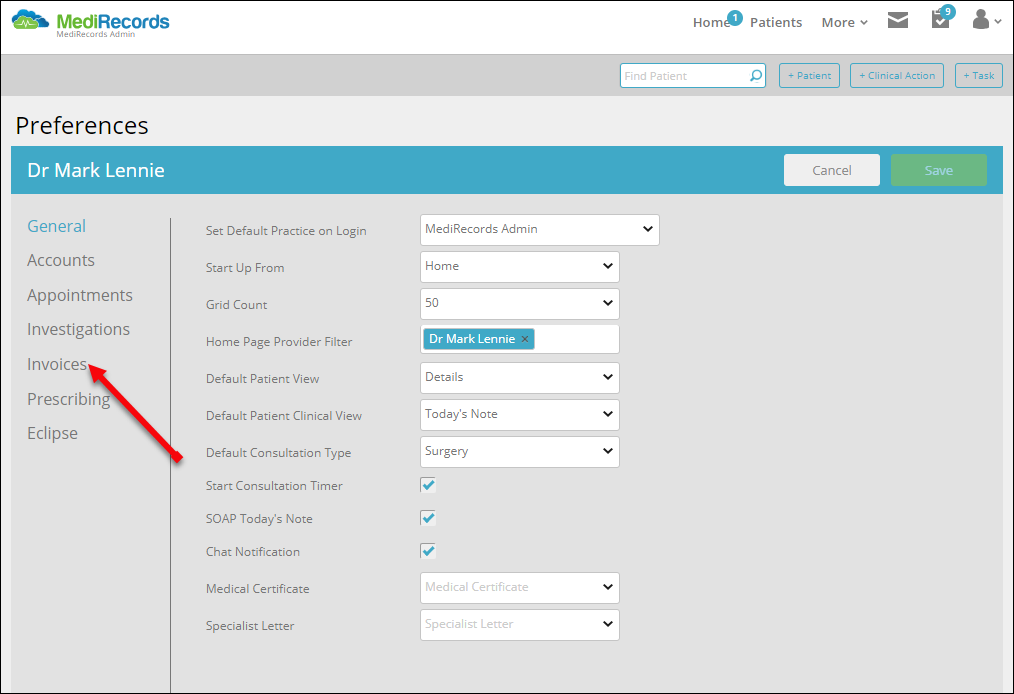 Click the Tick-Box for Finalize Account, click Yes for Derive Default Item to have a commonly billed item appear by default (optional), then click Save.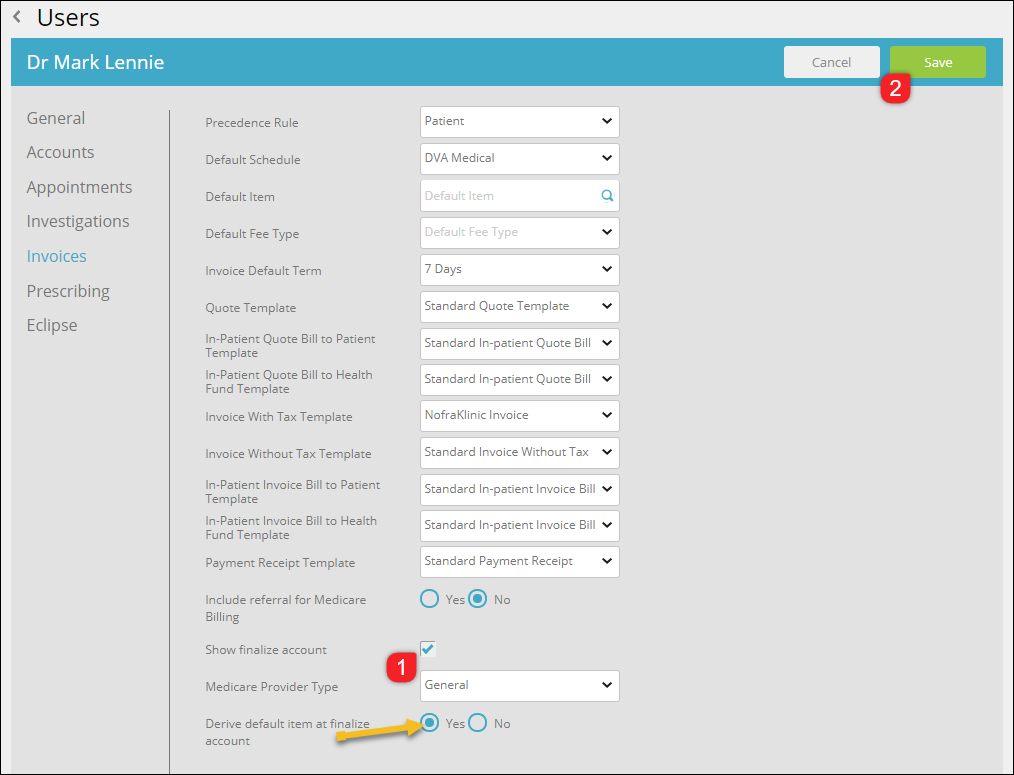 Using Finalize Account
After completing a consult and clicking Finish in Today's Notes, the Finalize Account window will appear for entering billing information about the consult. A default item will appear automatically if Derive Default Item was ticked earlier.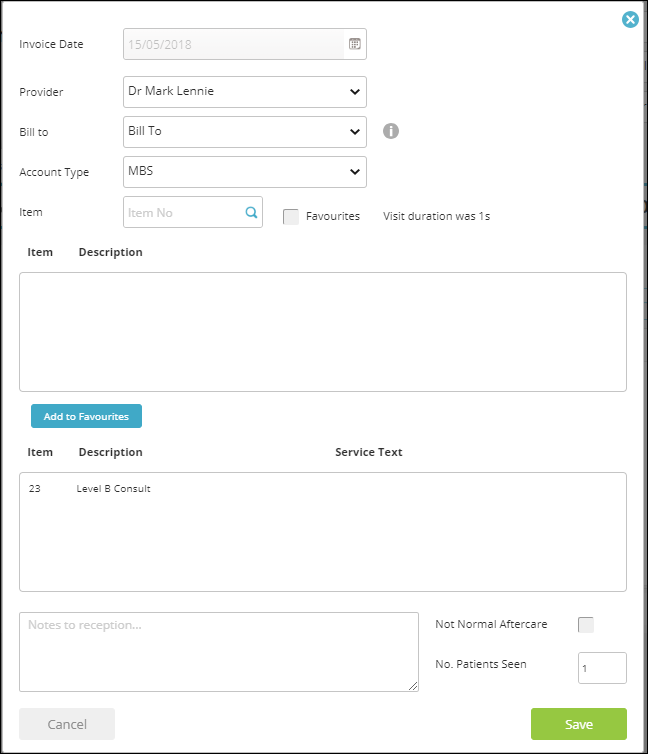 Enter in the Provider, Payee (Bill To) and Schedule (Account Type)
*NOTE: the Bill To and Account Type field can be automatically added based on your Invoice Preferences. For more information about Invoice Preferences, please refer to the section in our User Preferences Article.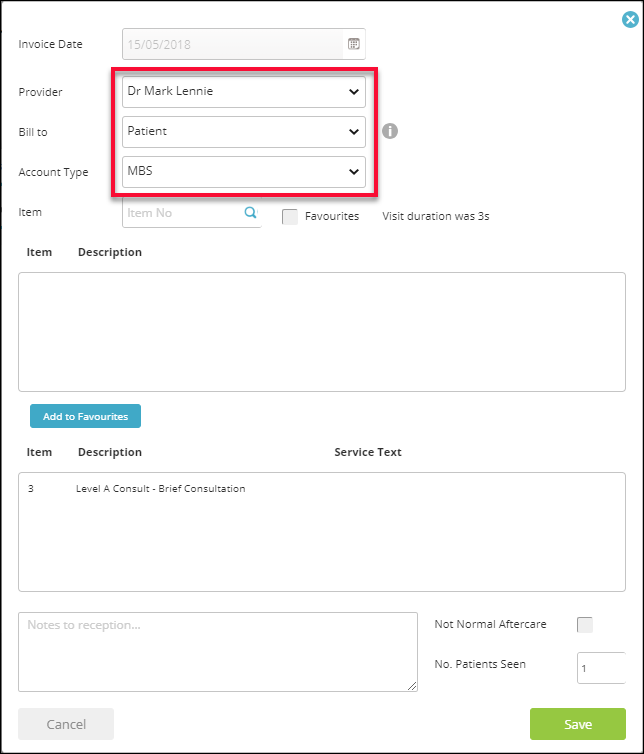 Items are added to the invoice by entering the item code in the item field and selecting it from the drop-down. This will populate the field below.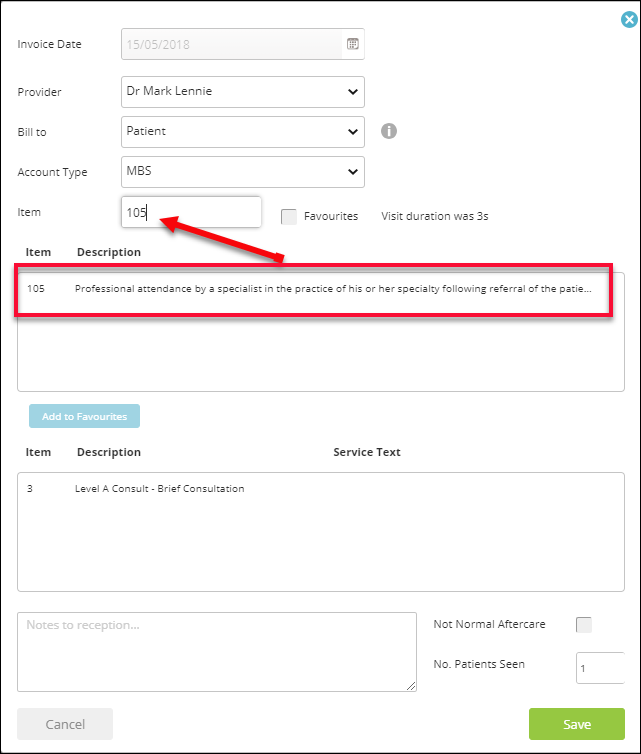 Hovering over the item will bring up more detail about the item. Double-clicking the item will add it to the invoice item list below.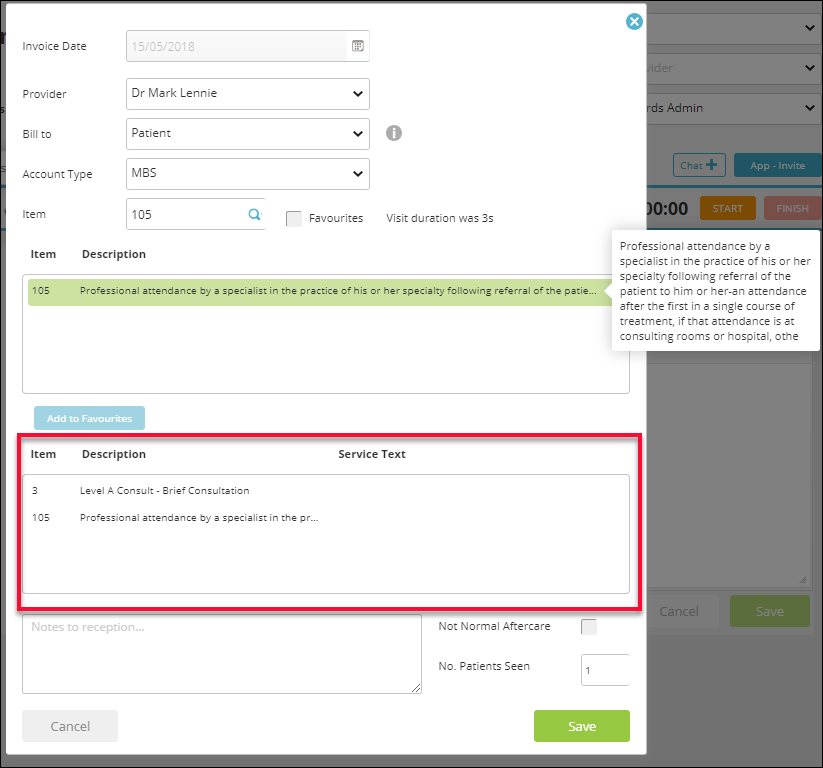 To remove an item from a field, hover over the right side of the item record and click the X that appears.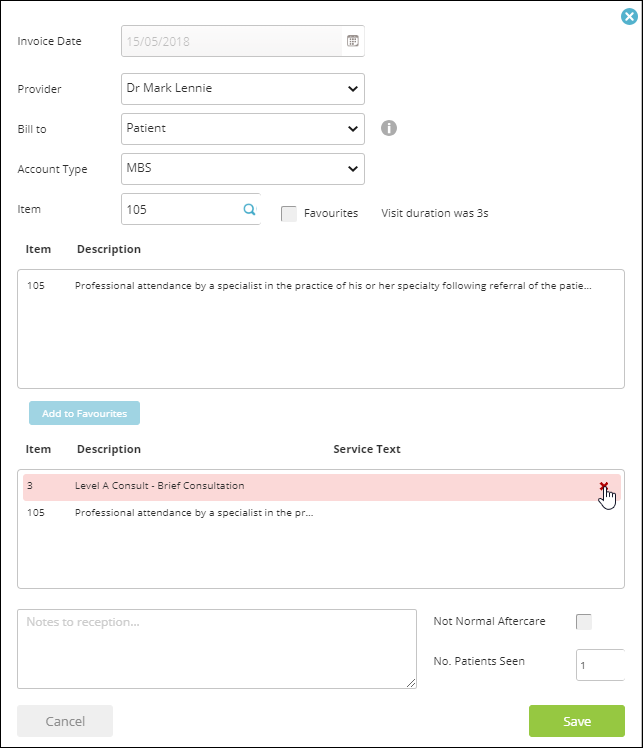 If there are common item lists you bill for, you are able to create a Favourites list by searching for an item and clicking Add to Favourites. The Favourites list will automatically populate the top item field with each new Finalize Account.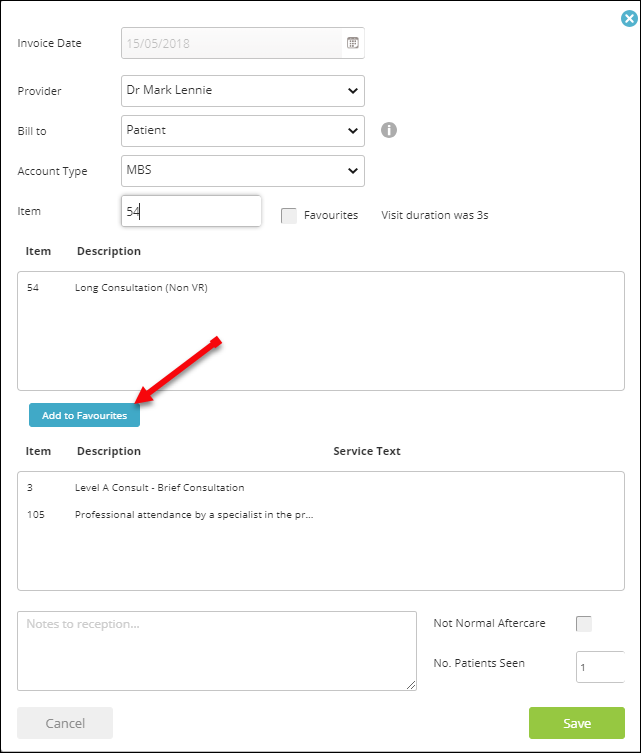 To view a Favourites list, click the Tick-Box next to Favourites. Current Favourites will populate in the top item field below.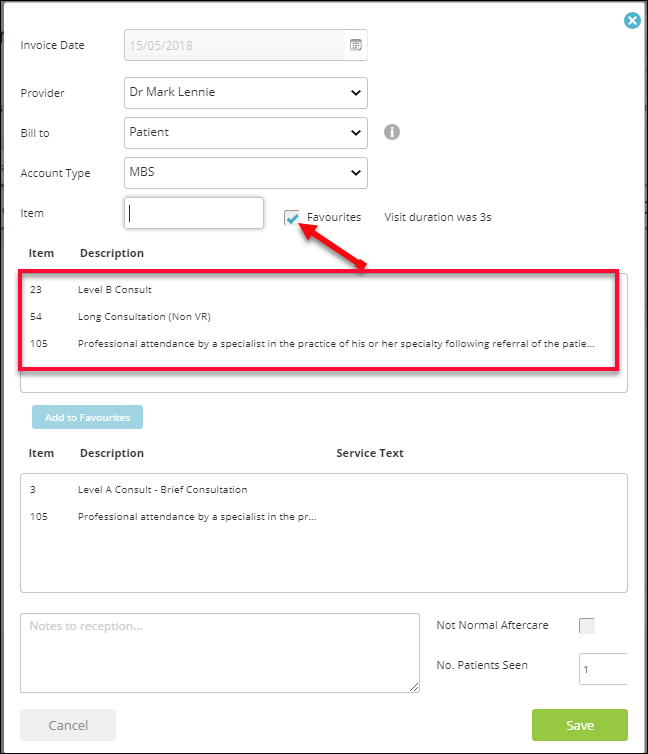 To search for an item in the Favourites list, enter the item code in the item field.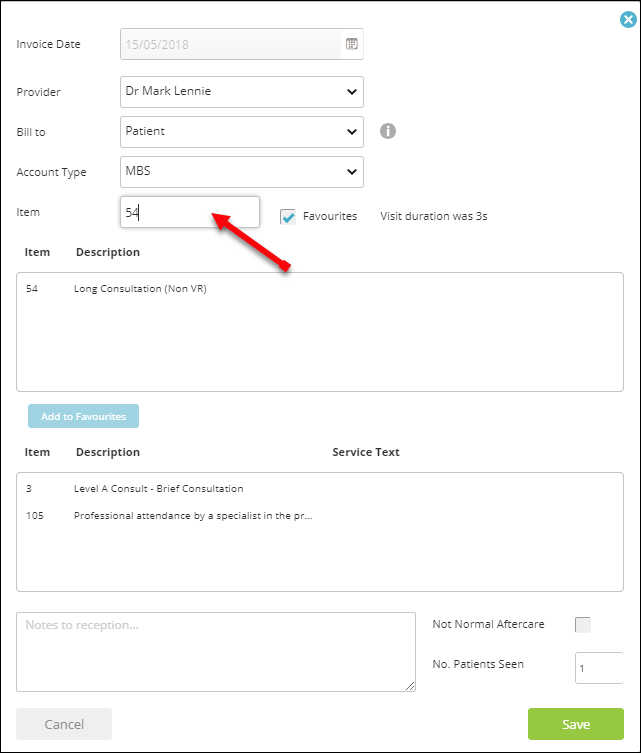 To remove an item from the Favourites list, hover over the right side of the item and click the X that appears.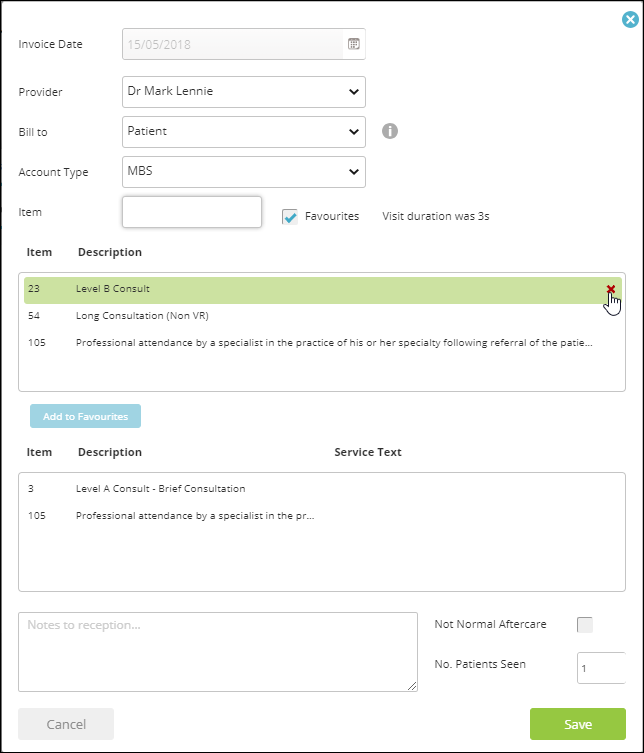 When you are satisfied with the invoice item list, enter in any additional information in the fields below and click Save.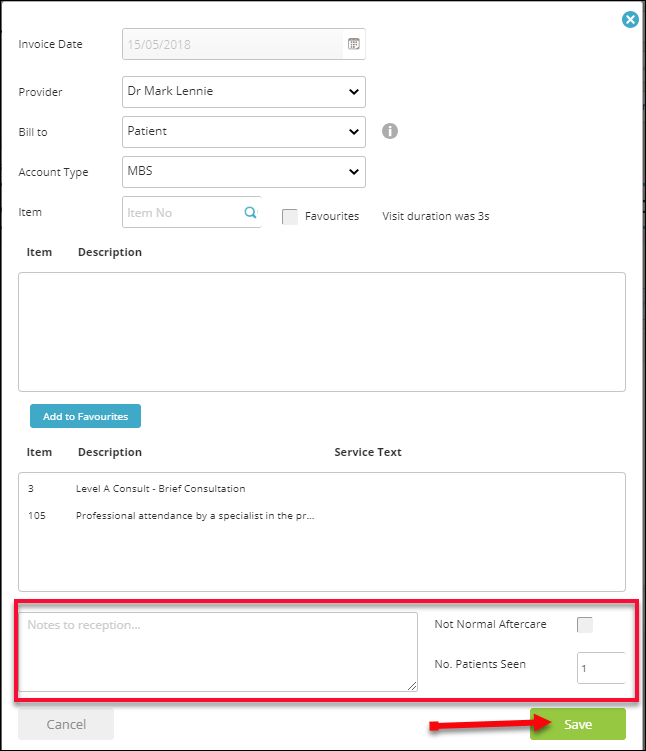 The invoice will now be available in the Accounts section in the patient record and the patient will be moved from With Provider to At Billing in the Waiting Room tab.
For more information about Patient Accounts, please click here.
For more information about the Waiting Room, please click here.
For assistance, please contact MediRecords support on 1300 103 903 during business hours.