Medicare ECLIPSE Claims 
This article will cover how to create an invoice that is being billed to a private health fund, and how to claim using Medicare ECLIPSE.
Medicare ECLIPSE (Electronic Claim Lodgement and Information Processing Service Environment) is a secure connection used to process claims to external organisations. In MediRecords, this is used for Private Health Fund billing. 
Before starting to use ECLIPSE, first ensure that your practice, user, and patient records are configured correctly. For more information about how to set up ECLIPSE, please refer to our article here.
To open a new invoice, click on New Invoice and then New In-Patient Invoice, accessible from the Patient Record (Open Patient Record > Accounts > Invoices > New Invoice).
After selecting the Provider, the Invoice Date and Payee (Bill to) sections will automatically be populated. The Bill to field will change based on the Claim Type which after clicking the box have 3 options available; Agreement, Scheme, and Patient Claim.
Fill in any other relevant details, input the Item code(s), and click Claim.
Once the claim has been processed, your claim will be visible from the Unclaimed Amount stage from the MediRecords Claiming screen. You can navigate to this screen by selecting Accounts followed by Claiming.

From there you can choose to submit a single invoice for claim, or choose to send multiple invoices in a batch as part of the one claim. Click the Tick-Box next to the invoices you wish to submit then click Claim.
Review the details of the claim then click Claim. 
The claims submission result will be shown, which includes the new claim number and status:
Once submitted, the claim will move to In-Progress. While the claim is In-Progress you can view the Process Report by selecting the check-box to the left of the claim, followed by More and View Process Report.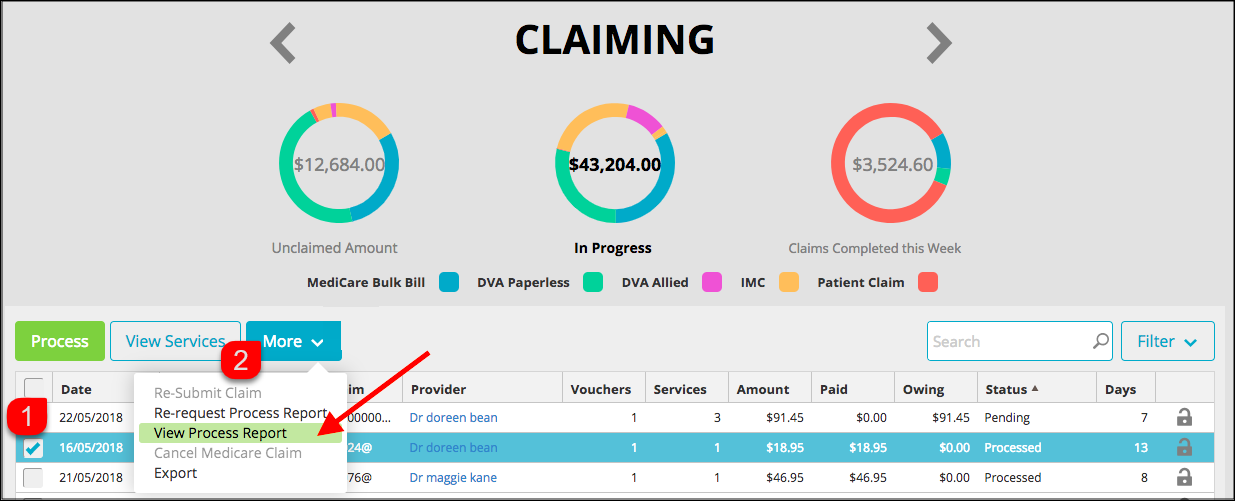 The Process Report will be available in the form of a pop-up that you can choose to print.
*NOTE: The Status of the claim, along with information around Amount claimed, total Paid, Outstanding amount, and number of Days the claim has been sitting in Progress are also available from this screen.
If your claim is taking a while to process, you can choose to manually run the process report in order to retrieve the payment report from Medicare as it becomes available. To do so, first select the check box to the left of claims you would like to run the report for, followed by process: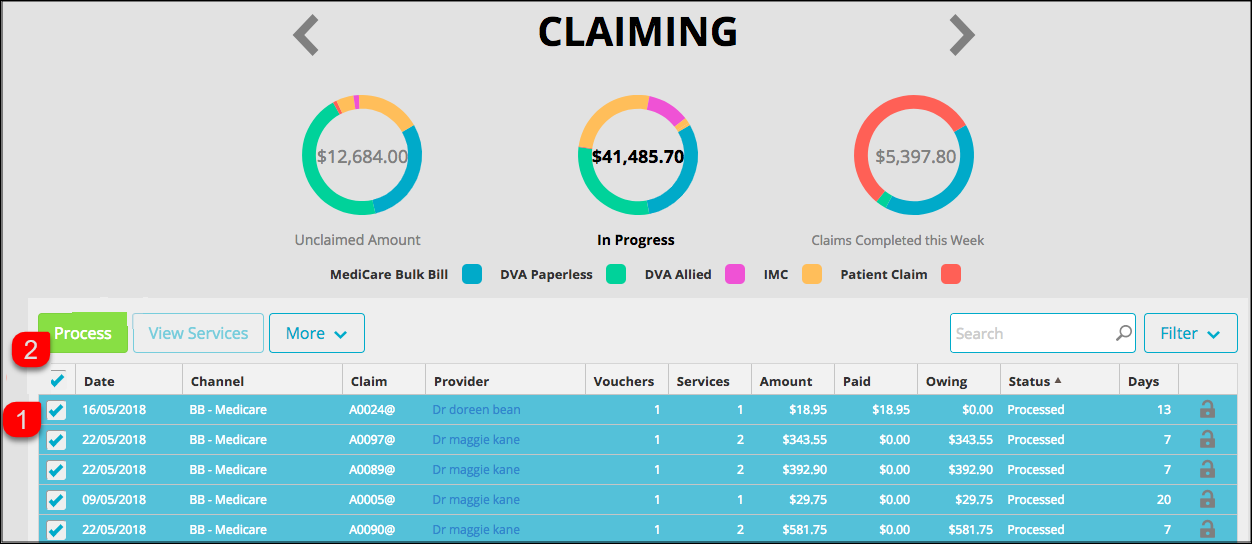 Select Yes to confirm:

*NOTE: If payment report was successfully retrieved, the claim will move to Claims Completed.
Once the claim has been paid in full (or manually accepted depending on the circumstance), the claim will move to Claims Completed this week; here you will have immediate access to the claim payment report detailing payment date, pay run number, and total amount paid: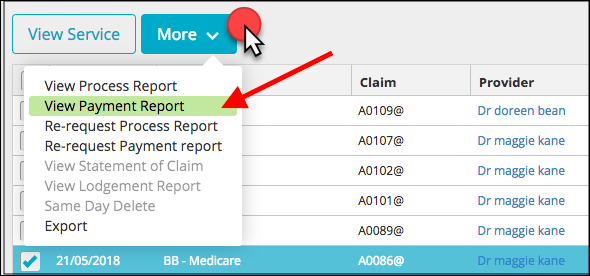 Similar to the process report request, the Payment Report will appear in the form of a pop-up.
You've completed another MediRecords Tutorial. You should now be able to create an invoice to claim through ECLIPSE. If this is not what you're looking for, head back to our knowledge base and search for another article.
For urgent assistance, please contact MediRecords support on 1300 103 903 during business hours.