Private Billing: With Claim
Private billing with a claim means that when the patient is billed directly, they will automatically receive a rebate from Medicare.

To start an invoice, navigate to the Accounts section of the Patient Record, and then click Invoices.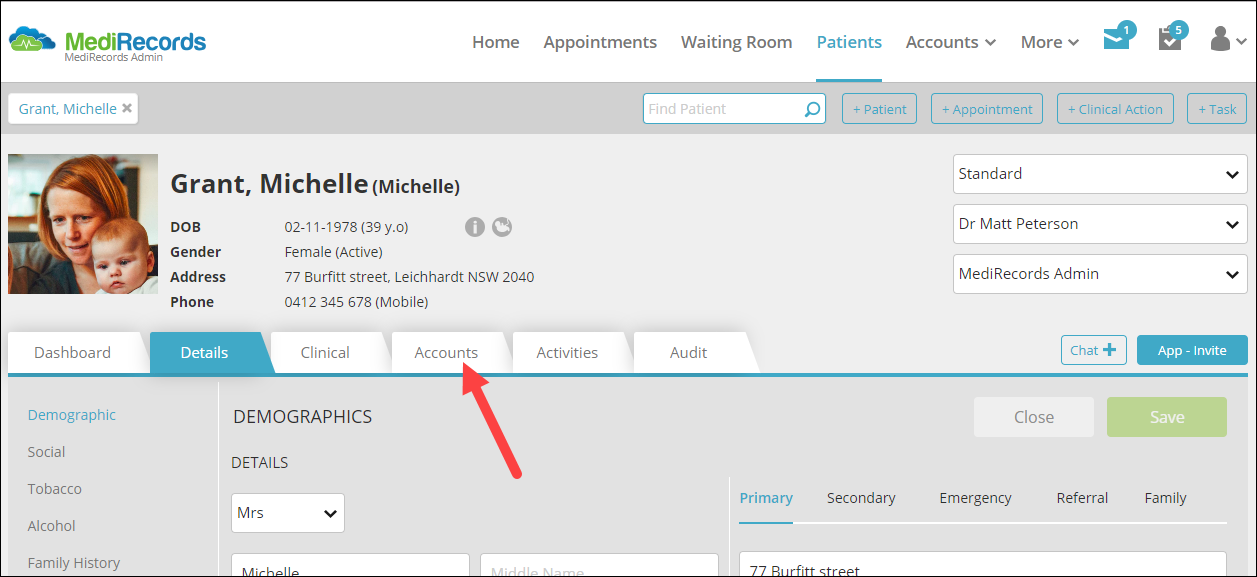 Click New Invoice to open the invoice form.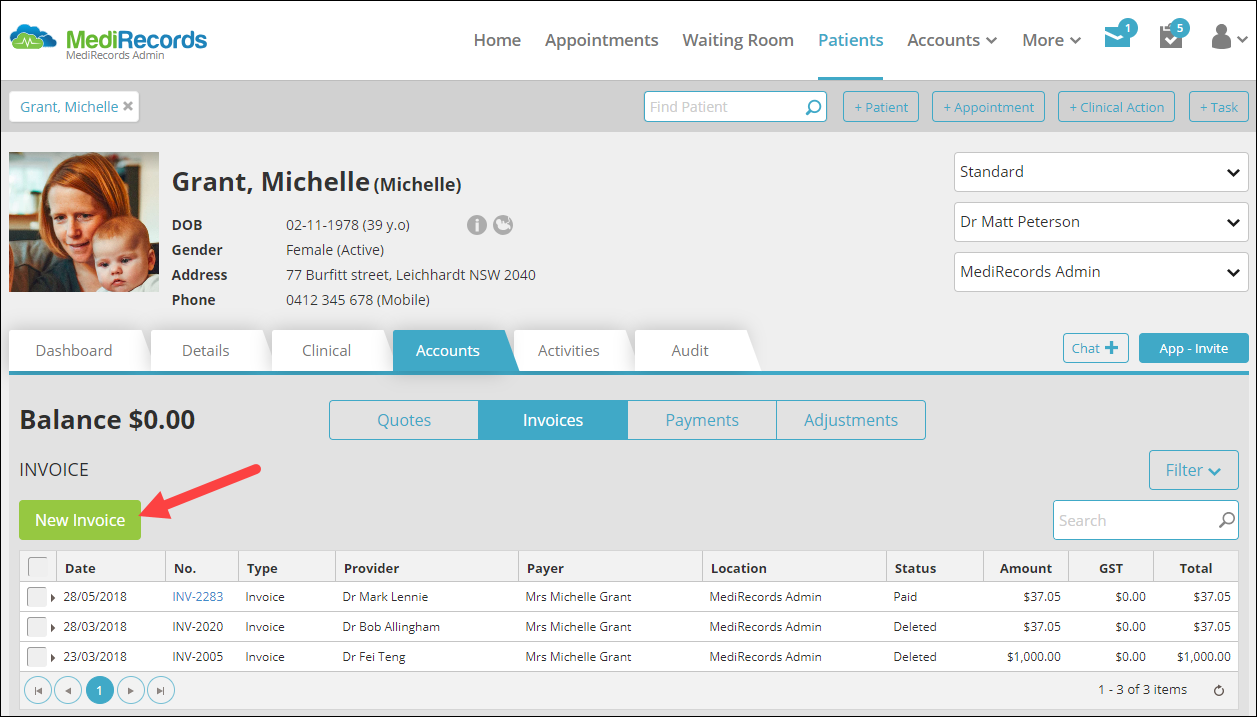 Select the Provider, Referral (if necessary), Payee (Bill to), and the Billing Schedule. If you are billing using a custom schedule you have made, make sure to select it in the schedule window. For private billing, Bill To should be Patient, Head of Family, or Other.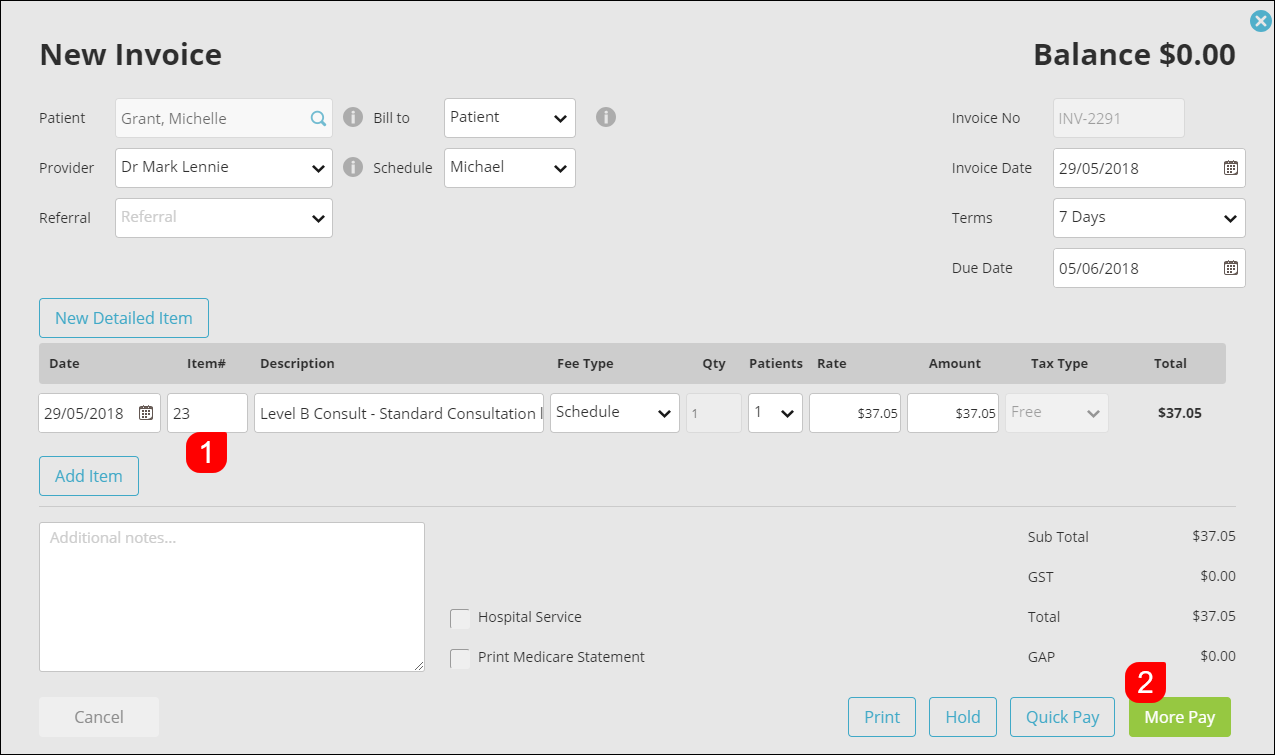 Enter an item code for the schedule into Item# (wait for the drop down menu to appear then select the item you wish to bill, using Tab to continue will void the item entry and it will be needed to be re-entered).

Add multiple items by clicking Add Item. Once you have finished, click Quick Pay to use a single payment method, or More Pay for multiple payment methods and/or payees.

If selecting Quick Pay, make sure the the Tick-Box next to Online Patient Claiming has been checked. You should then select the payment method and the payment amount, then select Pay Now.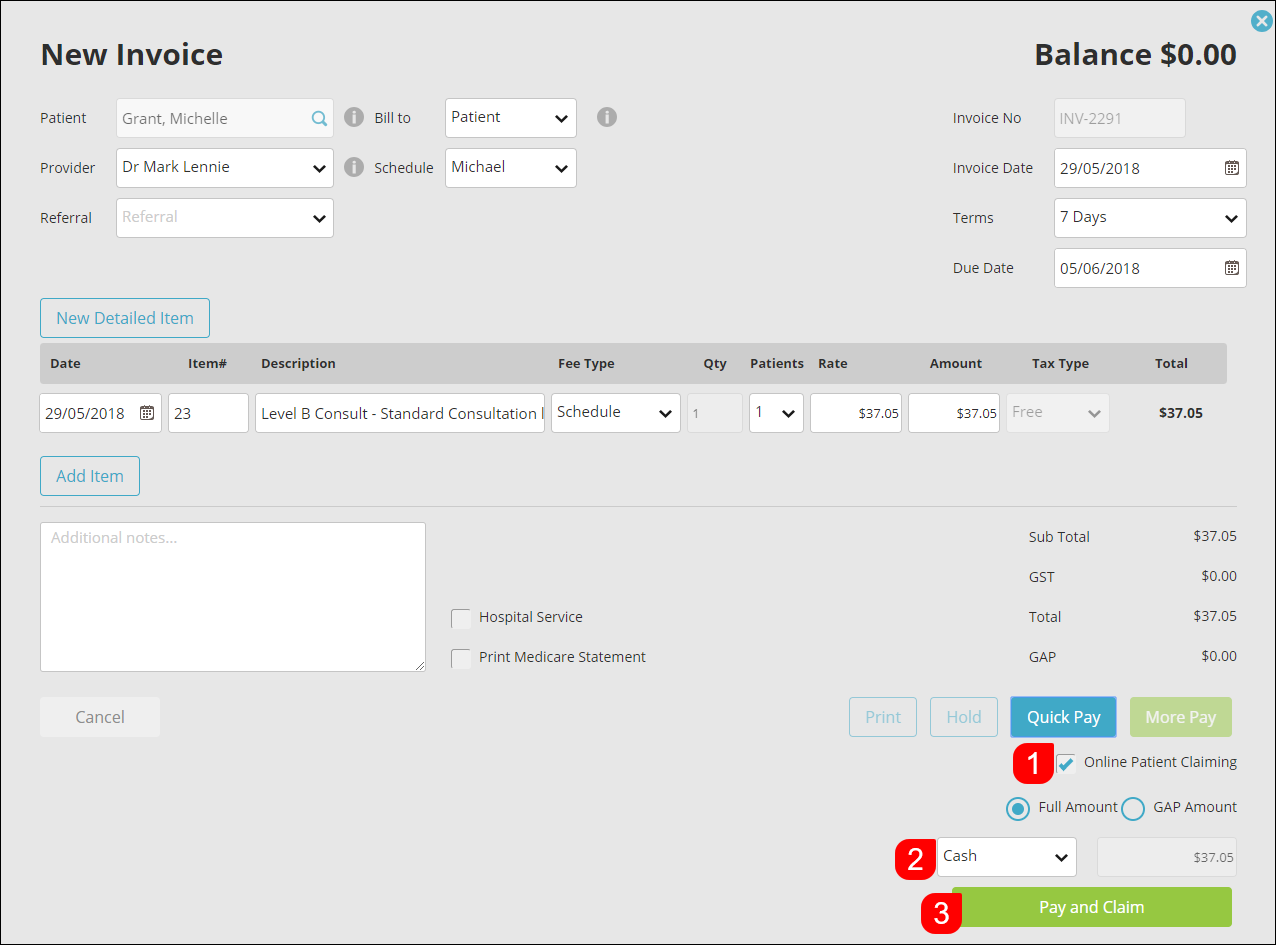 If selecting More Pay, the Payment window will appear. First, deselect the Tick-Box for Online Patient Claiming, then add the Type of payment method and the Amount paid under each. To add multiple payment methods, click the +.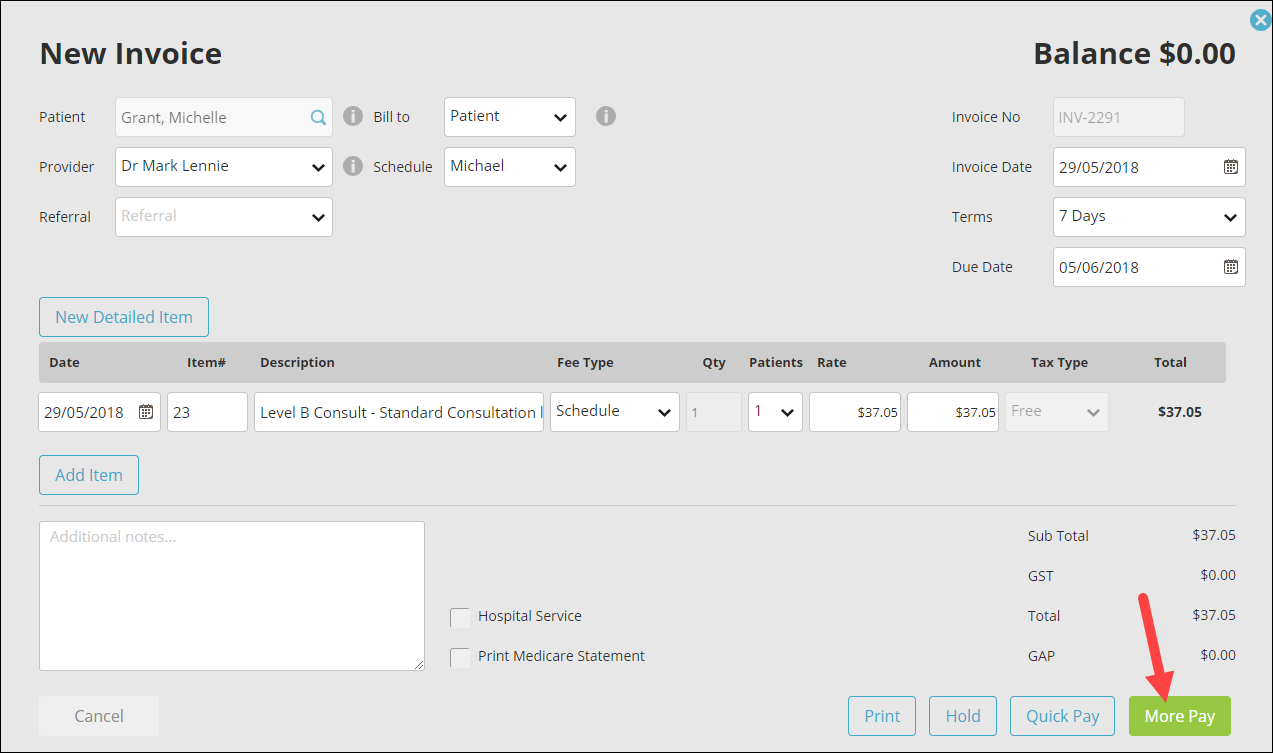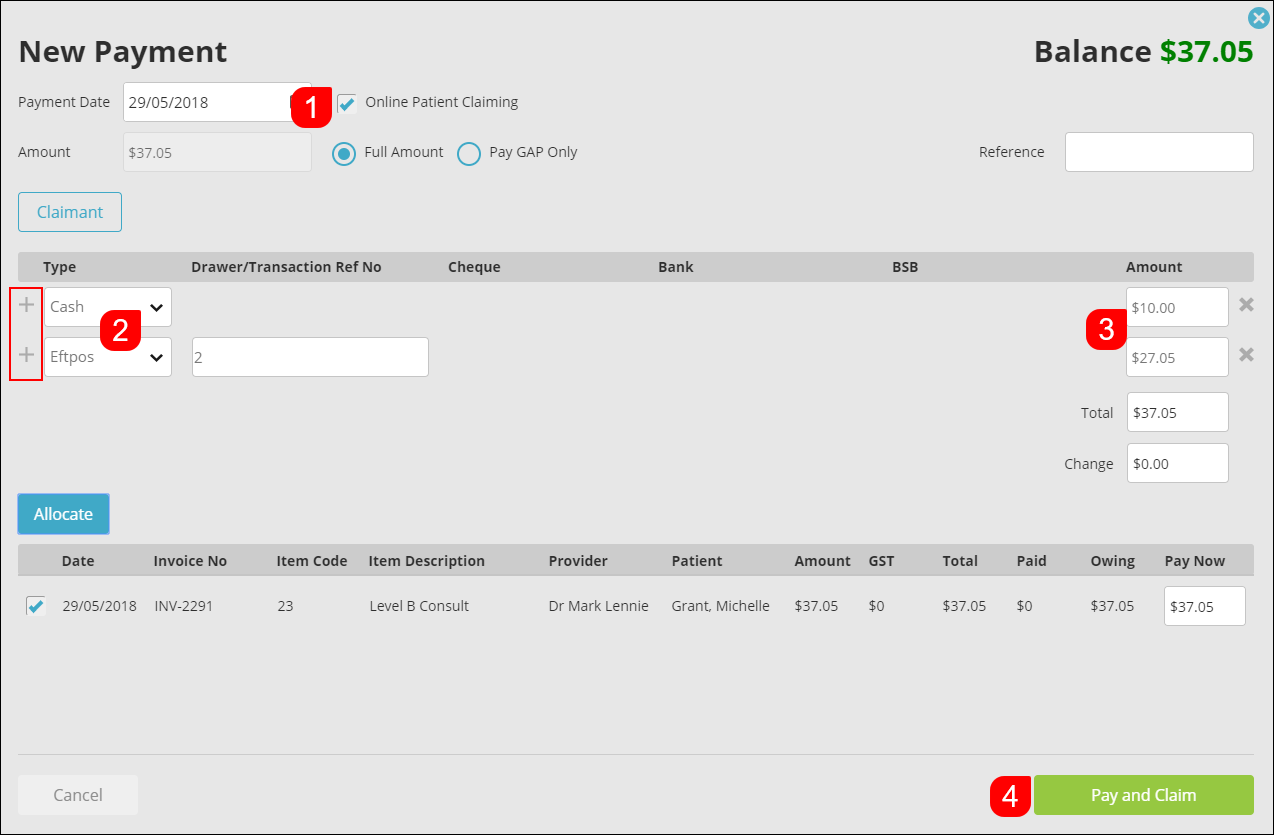 Select the Tick-Box next to the invoice being paid against (the current one), enter in the total amount paid in Pay Now then click Pay and Claim to process.

The new invoice will appear in Print Preview (if pop-ups are enabled for MediRecords), and is now available in the patient Invoices tab.
The claim will appear in the "Claims completed this week" category of the Claiming screen if you selected "No" on the popup box to store fully paid claim for processing later and inthe Unclaimed amount category if you clicked "Yes" on the popup box.


You've completed another MediRecords Tutorial. You should now be able to create a Private Patient Invoice with an attached Medicare Claim.
If this is not what you're looking for, head back to our knowledge base and search for another article. For urgent assistance, please contact MediRecords support on 1300 103 903 during business hours.