Patient Settings

Internal Reference numbers, Medicare, Private Health, Pension, and DVA details are all kept in the Settings Section of the Patient Details Tab in the Patient Record.


After Opening the Patient Record, click on Details, then Settings.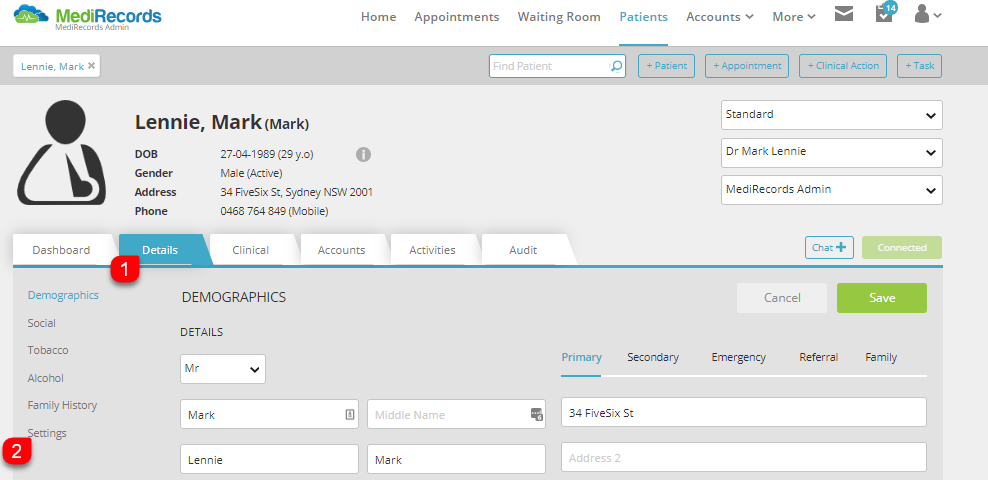 The following information is available to view and modify:
Internal Reference or Chart Number.
Default Value in the "Bill To" field on invoices; Patient, Medicare, DVA, Other.
Default Fee Schedule listed for patient.
Medicare Alias; Allows different identifying information to be sent alongside a claim to Department of Human Services.
Select if Primary or Secondary address is sent to Department of Human Services alongside a claim; if left blank this field defaults to primary.
Medicare Card Number, UPI, and Expiry Date. To run an OPV check please refer to our article here.
Private Health Provider, Membership Number, UPI, and Expiry.
Concession Type; Pensioner Concession Card, Health Care Card, or Commonwealth Senior Card.
Card Number and Expiry Details.
DVA Number, DVA Condition, and DVA Card Type. For more information about how to run an OVV check, please refer to the second half of our article here.
Health Identifier Number and Status.
eRx Identifiers
Default value for appointment time unique to the patient, appointment note displayed when a appointment is created.


Update any field as required and click Save to confirm any changes.
You've completed another MediRecords Tutorial. You should now be able to update a patient's settings. If this is not what you're looking for, head back to our knowledge base and search for another article.
For urgent assistance, please contact MediRecords support on 1300 103 903 during business hours or email support@medirecords.com