Financial
This tutorial will run through the Financial category of reports in MediRecords, under the Reporting section. The financial reports pull information from invoices, payments, and claims processed in MediRecords.
1. Navigate to More and select Reporting.



2. Click on Financial.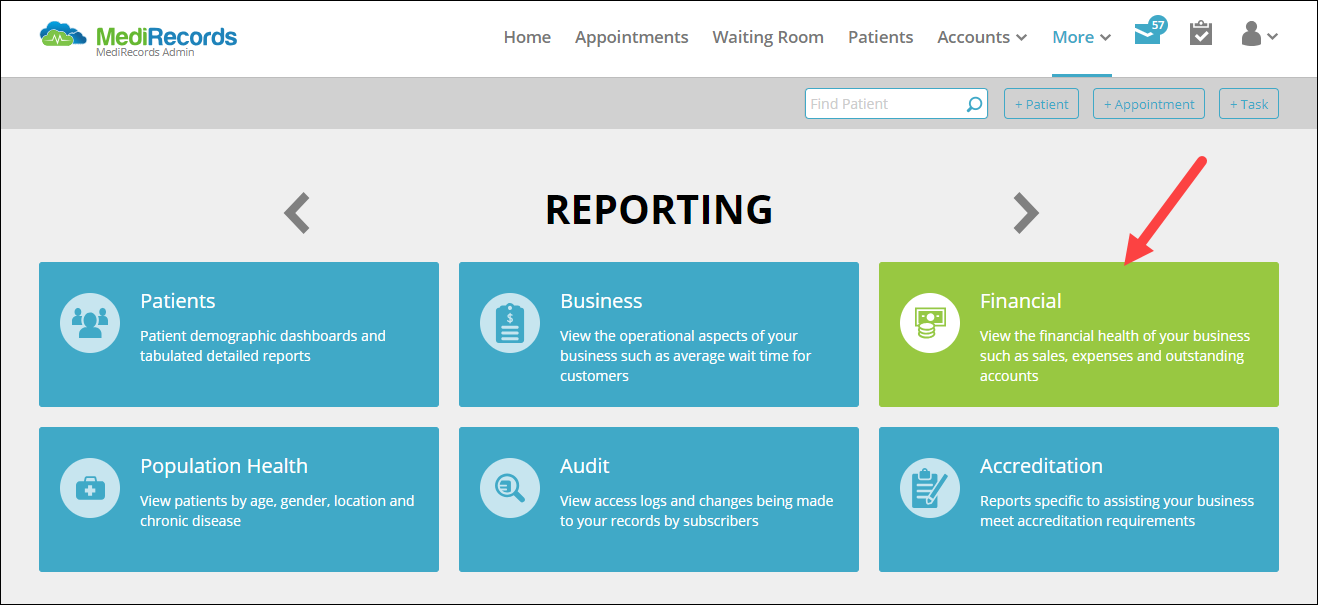 3. You will be brought to the Financial category. There are a total of 10 reports that you can run.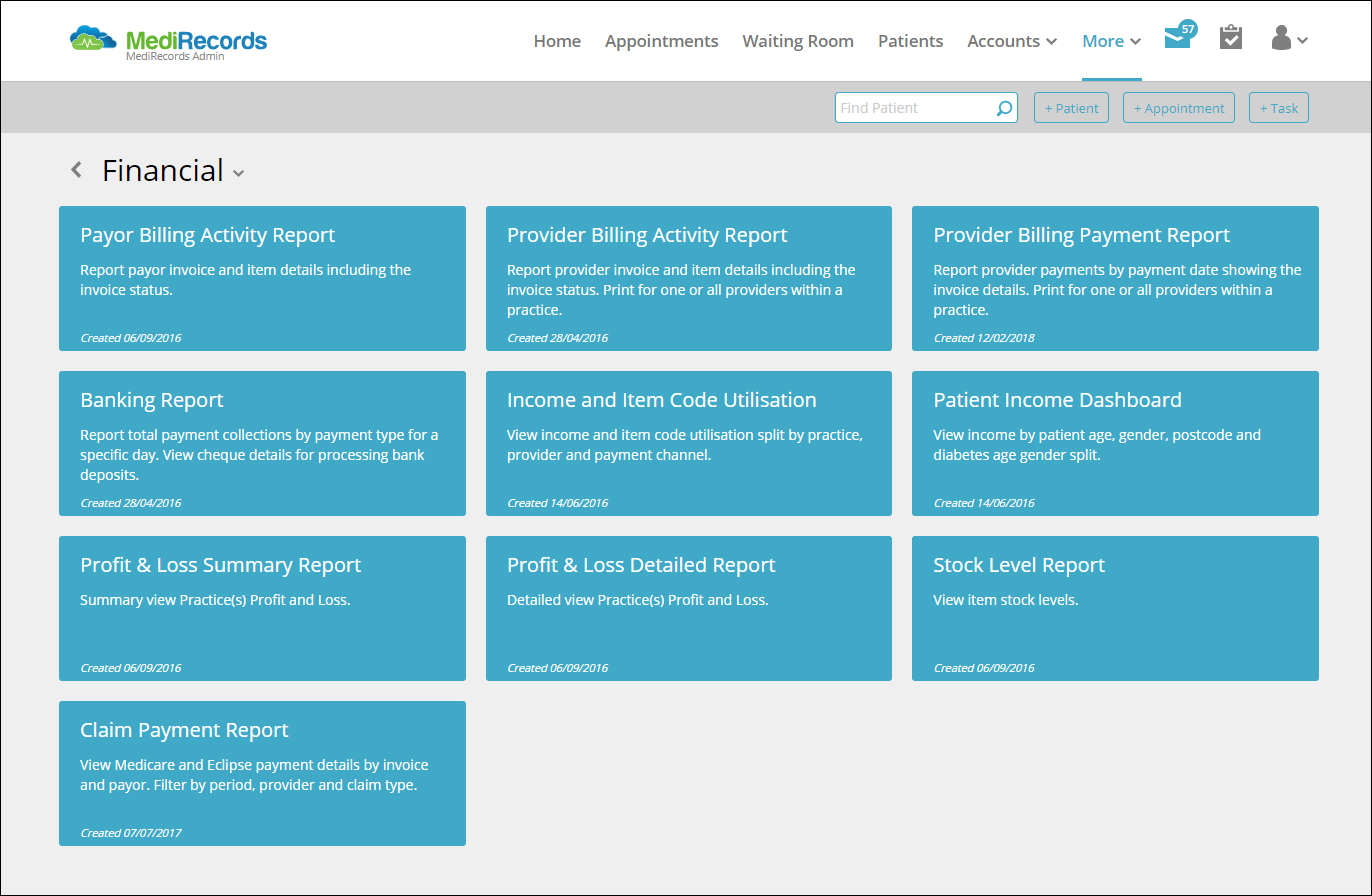 Payor Billing Activity
Report on invoice payors, item details, different invoice status' across any MediRecords practice you have access to between any date range.

Provider Billing Activity
Report on provider invoices by invoice issue date, item details, invoice status' across any MediRecords practice you have access to between any date range.

Provider Billing Payment Report
Report provider payments by payment date showing the invoice details.

Banking Report
Report on total payment collections by payment type for a day (or any date range) for any practice. View cheque details for processing bank deposits.

Income & Item Code Utilisation
Income and item code utilisation by practice, provider, and payment channel.

Patient Income Dashboard
View income by patient age, gender, postcode, and diabetes age gender split.

Profit & Loss Summary
This report provides a summary view of practice profit & loss, in a simple balance sheet format.

Profit & Loss Detailed
This report provides a Detailed view of practice profit & loss.

Stock Level Report
View item code stock levels for private CUSTOM items.

Claim Payment Report
View Medicare & ECLIPSE payment details by invoice, payor, and practice. Includes payment date, claim, and run number.


4. To demonstrate, the Payor Billing Activity Report will be run. Click on this category as shown.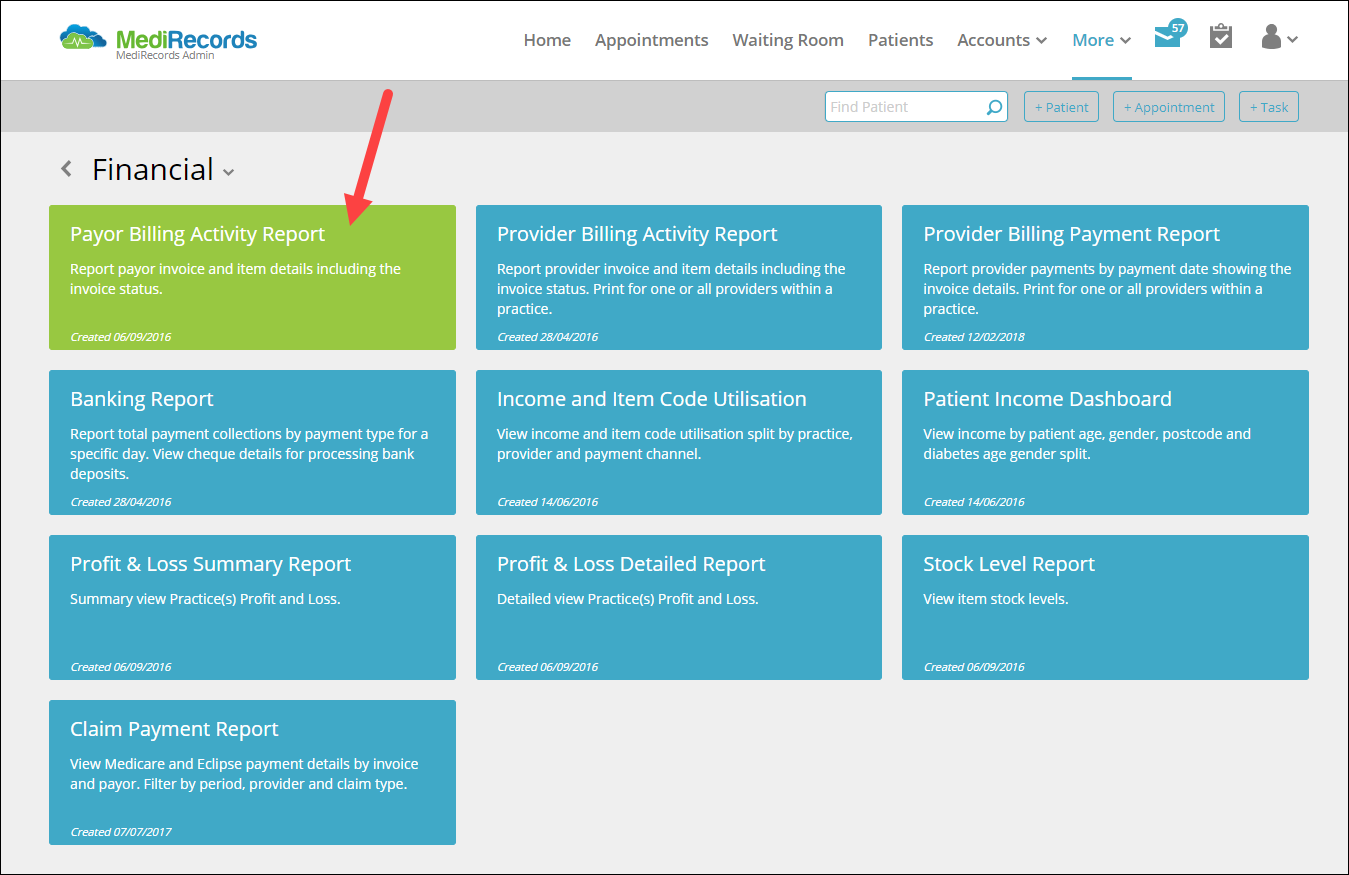 5. Once inside, you will view the following screen. You will need to edit the Practice, Payer, Invoice Status, and Date range (From) details before you click Run. You can also note the Print and Export options on the right.





The Payer can be customised to direct which invoice payer you will be pooling data from. Recall that in invoices, this is determined by the Bill To option.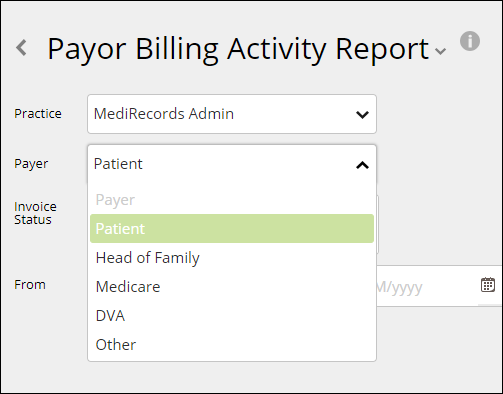 The Invoice Status can be customised to direct which invoice states will be included in the report (On Hold, Unpaid, Paid, Partially Paid)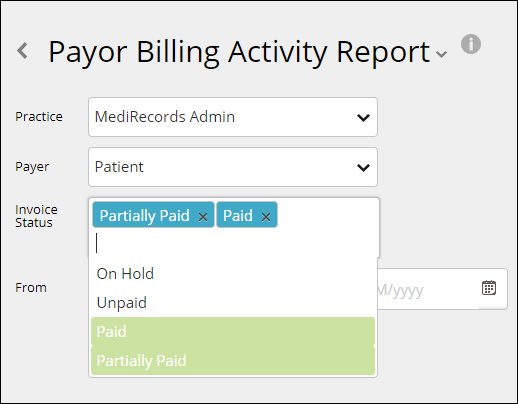 6. For an example, we will run a report for the practice MediRecords Admin, with Payer patient (all invoices billed to patient), invoice statuses Partially Paid and Paid, and the Date range from January 1 2018 to 30 May 2018, as shown. Click Run as shown.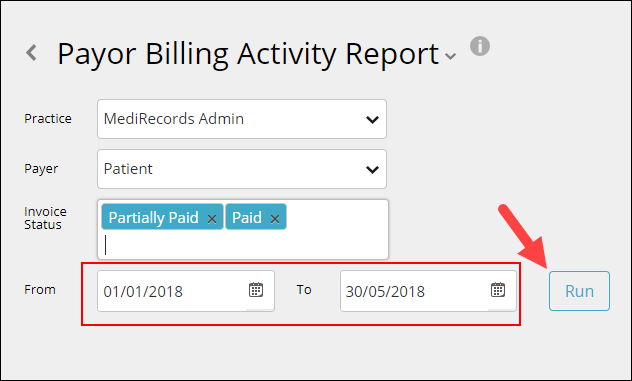 This will produce the following output.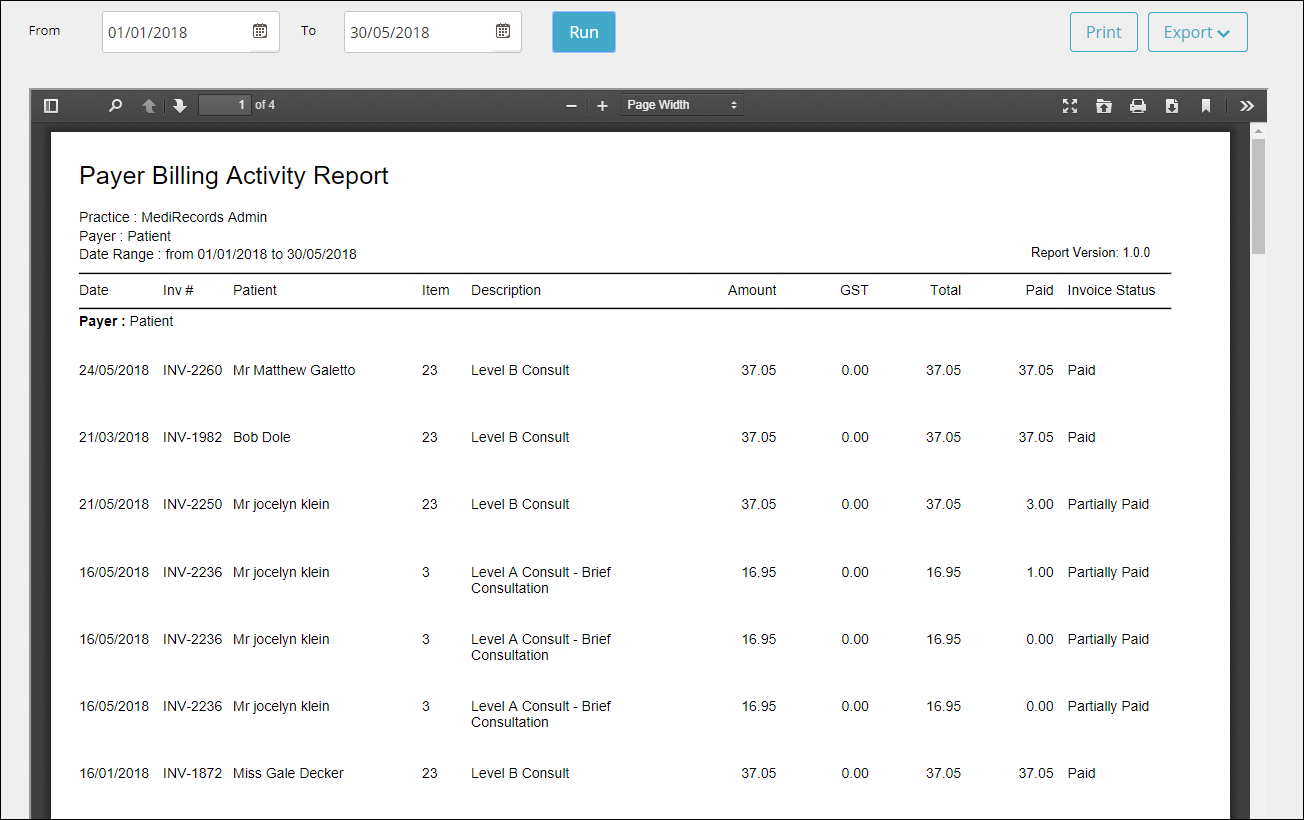 7. To print this report, click Print. You will taken to an in-browser prompt, with a print preview of the report.




8. To export the report, click on Export and select your preferred data format. In this instance, PDF will be chosen.





This will export the report into a new tab of your browser, as shown.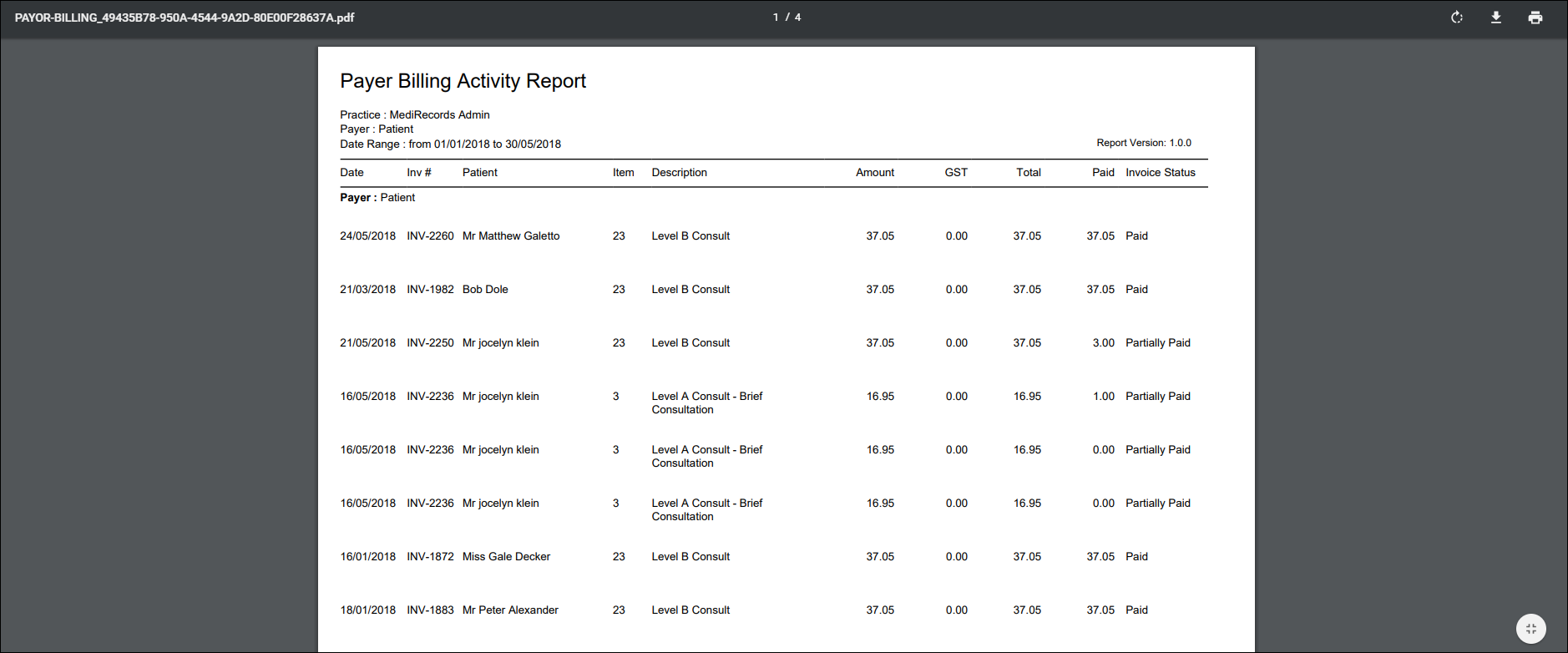 You've completed another MediRecords Tutorial. You should now be able to navigate to, run, and export reports from the Financial category of Reporting.

If this is not what you're looking for, head back to our knowledge base and search for another article. For urgent assistance, please contact MediRecords support on 1300 103 903 during business hours.