What Happens After I Submit a Claim? 
In this article you will be shown the claim submission process including what happens after you submit a claim, where processing reports are automatically retrieved by MediRecords and where action is required by the user to complete claims. In addition to this we will briefly explain the claim payment report. 
After submitting a claim there are several stages of claim processing:
For DVA/Medicare channel
After submitting a claim through a DVA or Medicare channel, a Claim ID is generated by grouping invoice with the same Provider number. 
For ECLIPSE channel 
A claim ID is generated for each individual invoice. 
Note: Submitted invoices will appear in the 'In Progress' section of the claiming screen with the status of 'Submitted'. To open this page click Accounts at the top of your MediRecords screen to reveal a drop down list, then click Claiming, followed by the In Progress donut .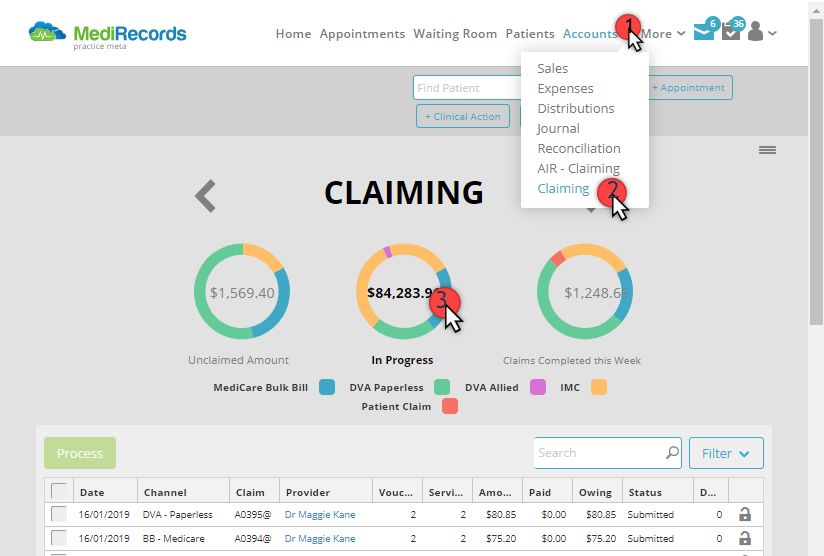 Medicare/DVA and Health Funds asses claims at Item level and a process report is issued when a complete Claim has been assessed. 
MediRecords retrieves available Process Reports nightly at 02:00AEST and marks associated claims as "Processes"
Unpaid Claims have been assessed as ineligible and require user action. 
For DVA/Medicare channel
A payment report will be issued by Medicare/DVA when they deposit funds; grouping of payment reports in done by Provider number. 
For ECLIPSE channel 
Electronic Remittance Advice (ERA) is issued by Health Funds when they deposit funds. ERA lists individual claims. 
MediRecords retrieves remittance advice nightly at 02:00AEST. Claims on remittance advice retrieved that night are given a fixed payment paid on date. This includes partially paid claims. 
Partially Paid Claims remain in the "In Progress" screen with the status of "Processed" until actioned by a User. 
Fully Paid Claims and Accepted Partially Paid Claims will transition to the Claims Completed Screen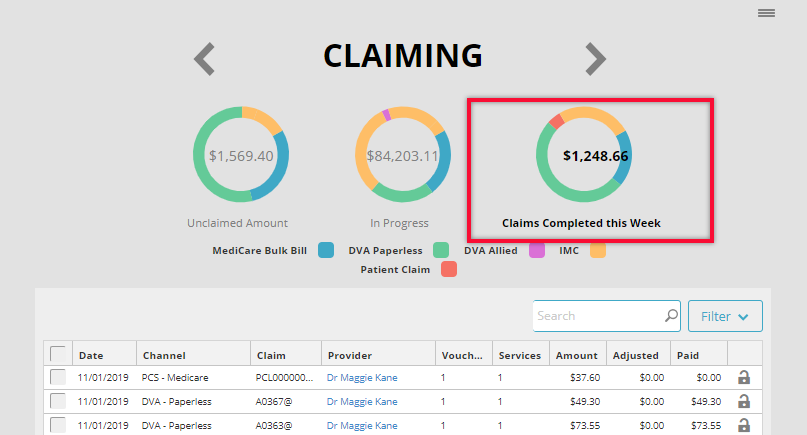 The Claim Payment Report shows all deposits made for claims during the selected period. It will display details of completed claims only. Partially Paid Claims must be actioned to appear on the Claim Payment Report.  
You've completed another MediRecords Tutorial. You should now understand the claiming process, including how processing reports are obtained and claim payment report is generated. If this is not what you're looking for, head back to our knowledge base and search for another article.
For urgent assistance, please contact MediRecords support on 1300 103 903 during business hours.