How to Create an Electronic Prescription
Electronic prescriptions are now available to everyone. A convenient alternative to paper prescriptions, sent by your healthcare provider as an SMS or email. All medicines can be prescribed using an electronic prescription. The message with a link to your electronic prescription is stored on your digital device, so you can access it whenever you are ready.
E-Prescribing will resolve the need for clinical users to sign prescriptions and mail original scripts to pharmacies, by generating an email token for patients to take directly to their pharmacy. The prescription process will remain very similar to paper prescriptions and this option will still be available to you.
We have introduced new prescription types which are visible on the Medications grid:
Paperless = Electronic script sent to the patient via a token (email and SMS)
Paper script = Paper script that is printed with an eRx barcode
Manual = Traditional paper script with no eRx barcode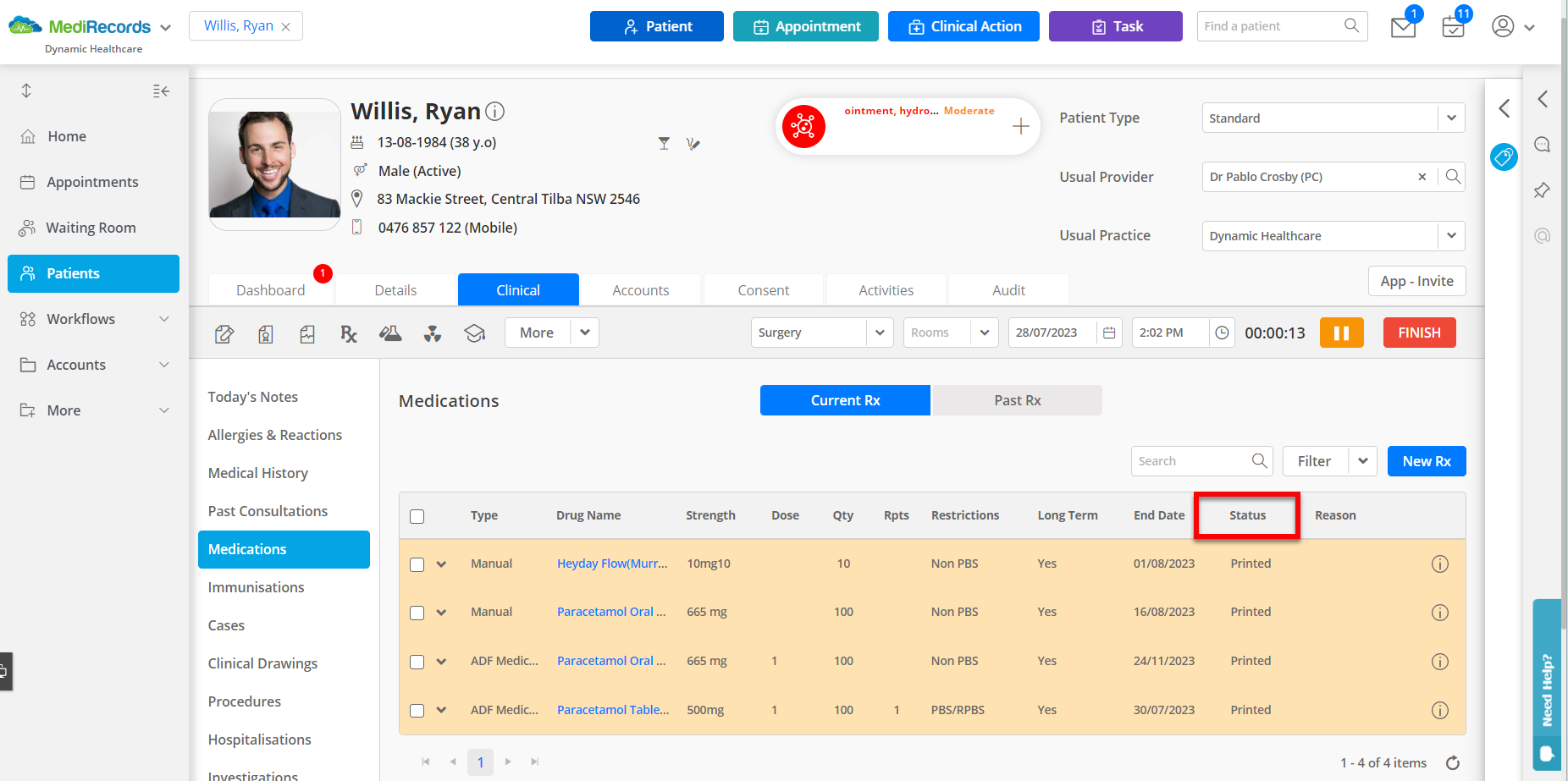 You will also see a new column for prescription Status:
Active = Script has been sent electronically (if Paperless) or has been printed (if Paper script or Manual) Hover over the to see printed status.
Draft = Script has been generated but token has not been sent to the patient.
Cancelled = Electronic script has been voided before it was dispensed and cannot be used by patient
To create an electronic prescription please ensure the following steps have been taken
The patient must have 'E-Prescribing' ticked in their Patient Settings to enable them to receive their E-Prescription token.
To prescribe a new medication, first open a Patient Record and click Clinical.

Open the prescribing screen by selecting the Quick Rx button from the quick links bar or click Medications > New Rx.





Identify the medication you wish to prescribe and click Next to view the medication detail screen.


Fill out script details including Dose, Frequency and Instruction and click Next.




There are some key features on this page.

Unusual Dose - to indicate to the pharmacist that this is an unusual dose.
Annotations - any instructions typed in this box will be sent to the pharmacist, but not available to the patient.
Urgent Supply - to create an urgent script that will be sent straight to the pharmacy and the patient will not receive a copy of the script.
Inpatient Service - to send a facility ID to the pharmacy along with script details. Ticking this option will then give you the ability to select a facility.
Submit to Active Script List - an option to opt-out of sending the script information to Active Script List/ My Script List.

The final screen will give you the opportunity to indicate the reason for prescribing and complete any authorization requirements for authority scripts.


The prescription details will be available to review at any point during the process.
Authorized Reference Number
An authorized number that differs for each state. The text will differ depending on which state you are in. For example
QLD will display as 'Approval Number'
NSW will display as 'Authorization Number '
All states and territories use the same authorized reference number concept and the number performs the same function across all states and territories.
Click Prescribe once you are ready to prescribe and you are presented with two E-Prescribing options:
E-Prescribe - will create the script as a draft and can be reviewed and sent at a later time.
E-Prescribe and Print - will create the prescription with a status of 'Printed' and the system will automatically send the script to eRx and generate evidence of the prescription.
You will need to confirm the patient's email address or phone number each time you E-Prescribe, and you have the ability to change the email address or phone number here without it affecting their usual email address in their patient settings.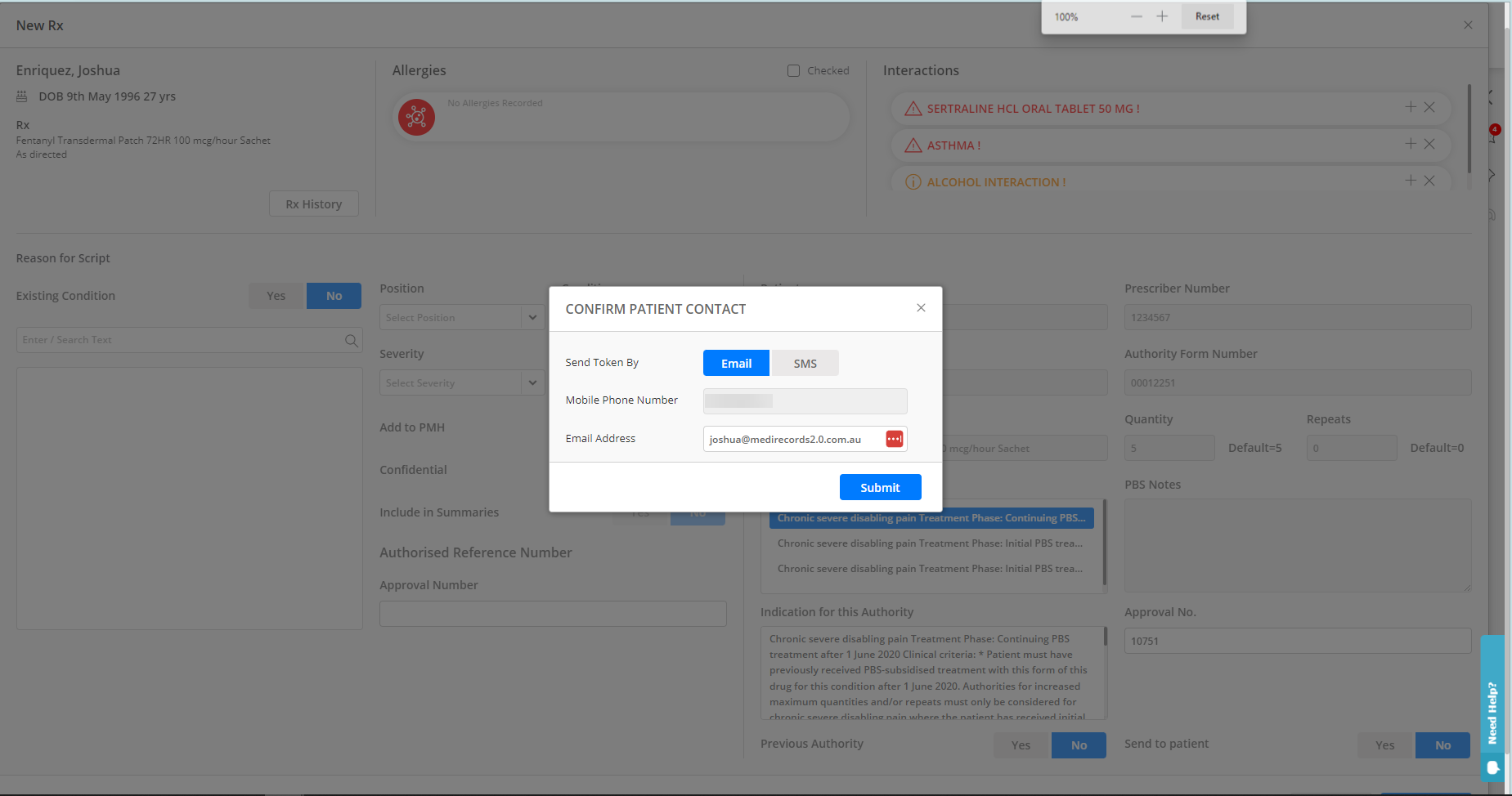 4. Click Submit once the email address has been confirmed.
5. The patient will be emailed their e-Prescription token, and the script information will be sent through the eRx Script Exchange.
6. A summary of electronic prescription will pop up - there is no requirement to print this as it is not a prescription, however, it can be printed and given to the patient if requested.
7. You can simply close this window if the patient does not request it to be printed.
8. You will know the token has been successfully sent if the status of the prescription = Printed.
9. The patient will receive their e-Prescription via email or SMS- this is sent by eRx: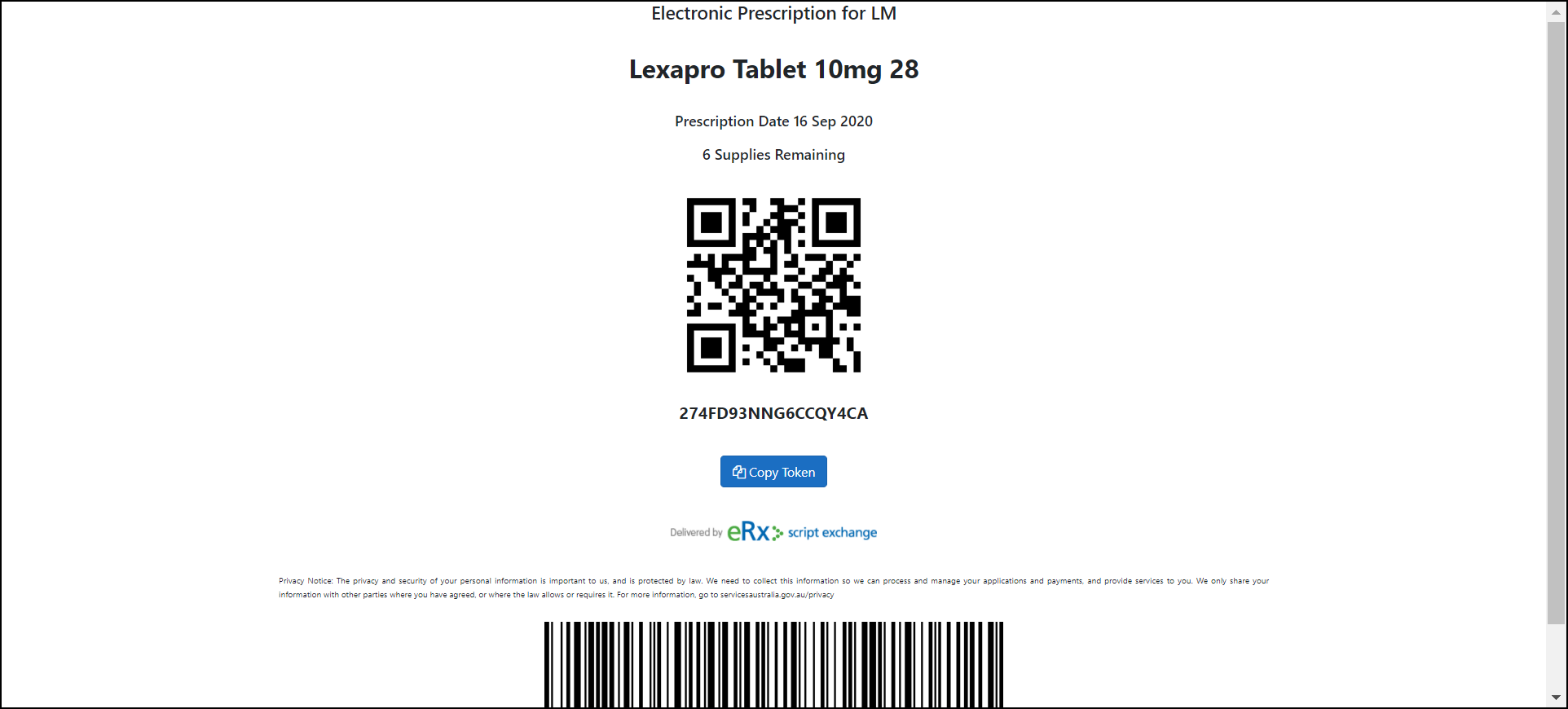 10. If an E-Prescription cannot be generated, MediRecords will attempt to create a Paper script (creating a paper prescription with the eRx barcode), and if an eRx prescription cannot be generated, MediRecords will create a Manual script.
11. If you wish to edit a prescription that has a status of Printed (token has been sent to patient), you will need to cancel that prescription and create a new one.
How to Resend an Electronic Prescription Token to a Patient? Click here.