MediRecords has the ability for Providers to prescribe Rapid Antigen Tests for Covid-19 via e-Prescribing. This will allow the patient to be tested and have proof of their outcome via SMS in a contactless consultation. To follow are the steps to complete this consultation:
Before you Begin
Before prescribing, you should ensure that your Prescriber details are configured:
After you select the User Icon in the top right go to Profile > Identifiers and ensure you have entered a Prescriber number.
Creating the Rapid Antigen Test in Drug Recipe
Click on More.
Navigate to Resources.
Click Drugs
Click Recipes
Click New Recipe
Complete the left-hand side of the form (Mandatory fields are highlighted in red)
Click Ingredient and type in a keyword (first few letters) to reveal a list of the closest matches in a drop-down list. Click to select the name of the ingredient.
Enter the Strength and Unit, and click Add to add the ingredient to the recipe.
Add additional ingredients by following the same process.
Click Comments to type a short description or use of the recipe.
Click Save to complete.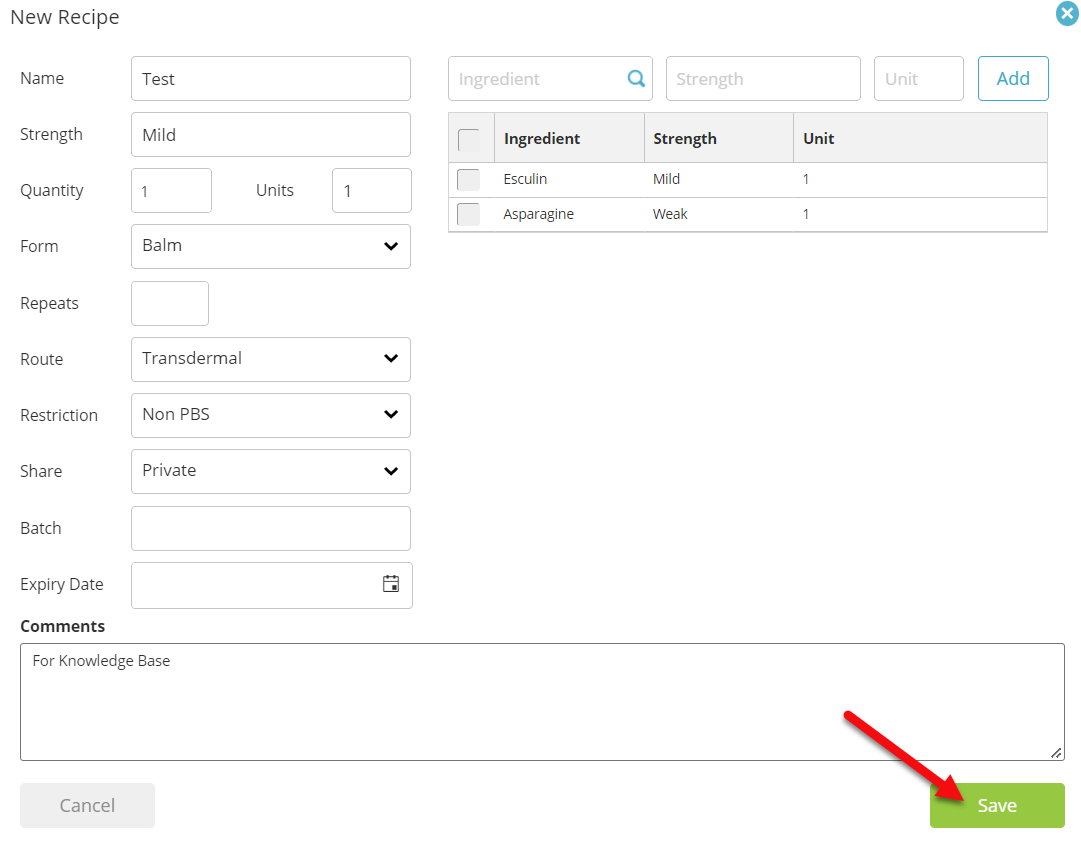 Create the Schedule for Charging Rapid Antigen Tests
Click More tab and select Settings from the drop-down menu
Click Accounts
Click Schedules
Click New Schedule
Click Schedule Type
Click Custom
Fill in the additional schedule details as required
Click Save to create the schedule
The New Custom Schedule has now been created
You can select the newly created Schedule to add an item to it for billing purposes.
Add custom item to newly created schedule
Click the tick box next to the Newly Created Schedule
Click Add Item

3. Enter in the item code ( this is what you will use when searching this Item when billing)
4. Enter in the Fee you wish to charge for this test
5. Enter in a description of the item and Save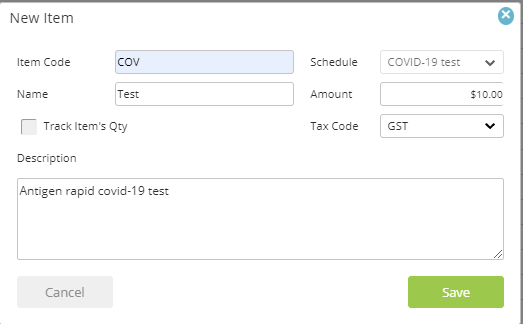 You have now created the custom item for the Antigen Rapid COVID-19 test.
Create an SMS Template for Test Results
Click More to reveal a drop-down list, and click Settings.
Click SMS Template.
Click the + symbol
Enter a Name for the Template. Next enter the SMS Content and Merge Fields to create an SMS Message.
Click Save to save the SMS Template.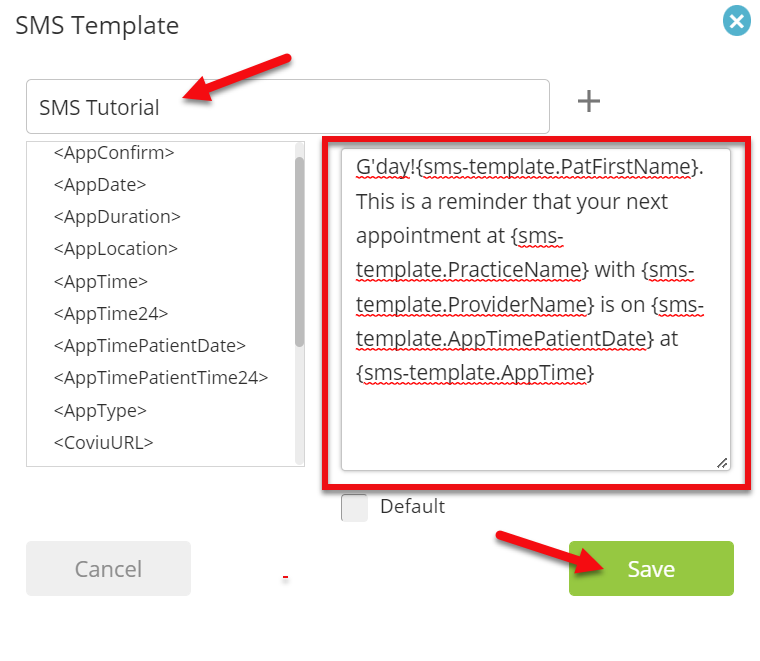 If the above SMS template was sent to a patient named Paul, regarding his appointment with Dr John Smith, this is how it would translate into an SMS message:
"G'day Paul. This is a reminder that your next appointment at The Medical Practice with Dr John Smith is on 10/11/2015 at 10:15am"
You will adjust this example to reflect what you wish to advise the patient you are sending the SMS too.
How To Provide Rapid Antigen Tests via e-Prescribing? Click here.
If you need further assistance please contact support on 1300 103 903 or email at support@medirecords.com