This article will walk you through how to create Sessions using the Cycle function in MediRecords. The Cycle function works when a Provider has somewhat of an irregular schedule each week. This allows Providers to create sessions that are re-occurring but only occur on certain allocated weeks.


Cycle meaning: When you are choosing your cycle period you will need to confirm if the Provider is on a fortnightly schedule or if are on a monthly schedule (do they have 2 weeks of different hours each week OR do they have 4 weeks of different hours each week)

For example, you have a Provider who has a 2 week rotating schedule.
Week 1: Works Monday -Thursday 8AM - 6PM, and Friday 8AM - 1PM.
Week 2: Works Mon - Friday 7AM - 4PM, and Saturday 8AM - 2PM.


These sessions will repeat itself until specified.
If you are unsure on how-to create sessions please follow How do I create a Session to learn.
1. When you are viewing the Sessions via More > Settings > Subscription details > Appointments > Select appropriate Practice > Sessions > Select New Session.
2. Within the new Regular Session window enter all of the appropriate fields as you normally would when you create a session.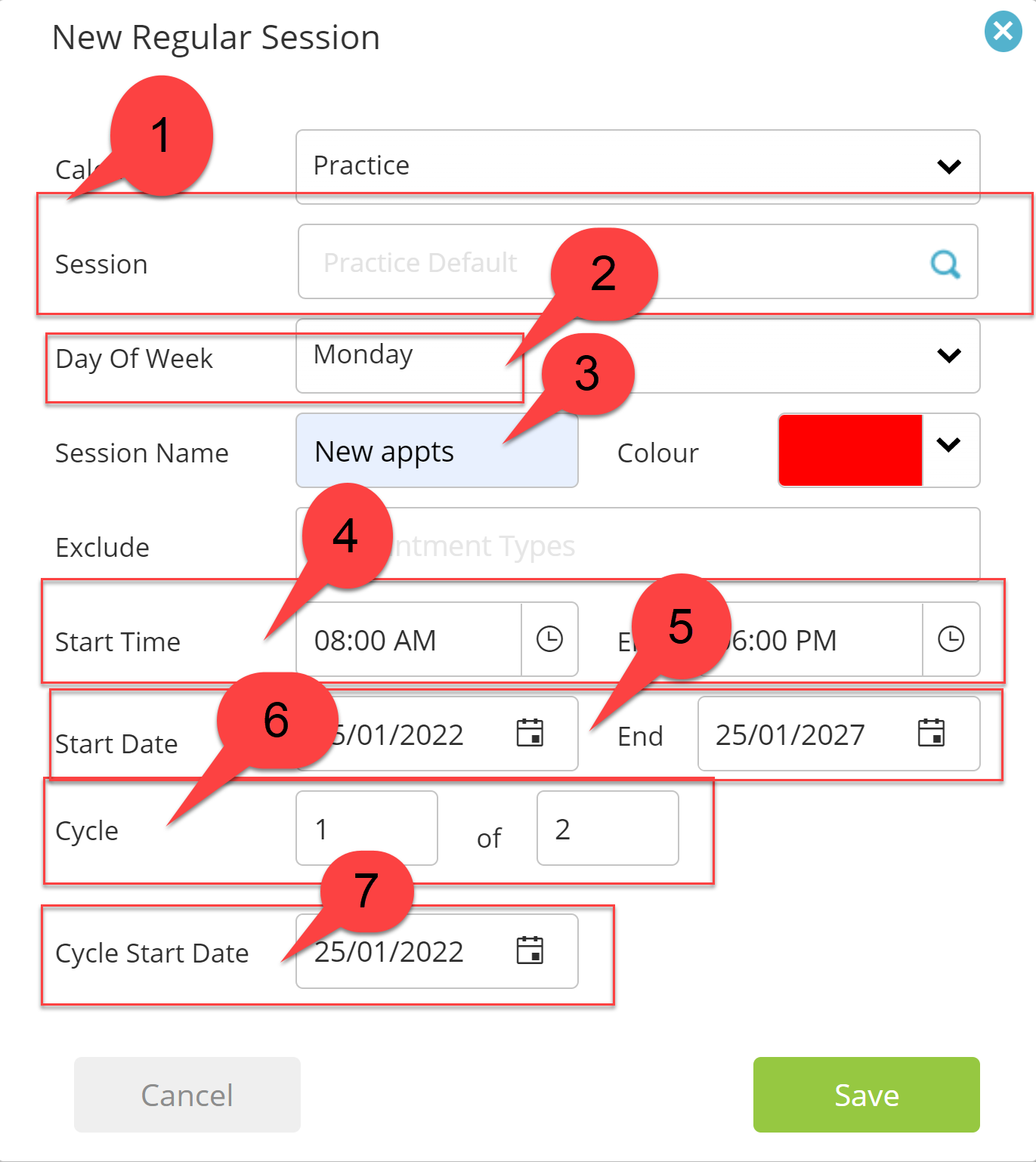 3. At number 6 enter in the Cycle period you wish to create (for example, if the Provider's schedule changes fortnightly then you will enter in Cycle 1 of 2 OR if it changes weekly you will enter 1 of 4.)
4. The Cycle start date is when you want this particular cycle to start. (for example, Cycle 1 of 2 will start on the 31/01/2022 so then, Cycle 2 of 2 would start on the 07/02/2022.)
Below is an example of creating a Session Cycle for a 2 week rotating roster

Hot Tip: If a Provider works Mon-Friday set hours one week and different set hours the next you can create a session cycle for Mon-Saturday and then just delete the session created for Saturday instead of creating a session or each individual day: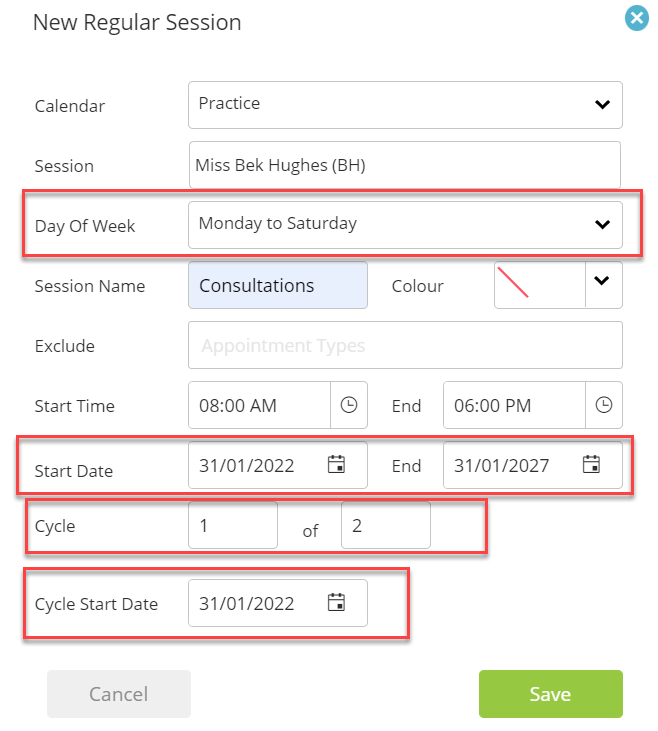 The First Session cycle. (Week 1)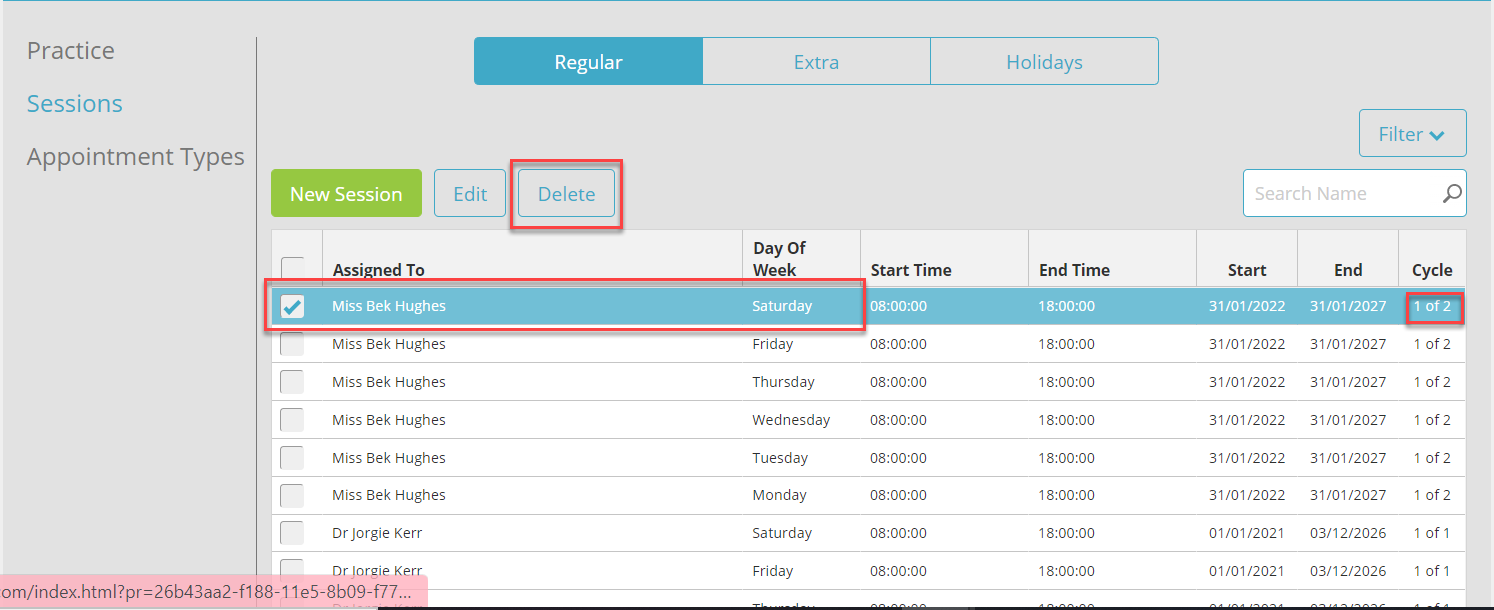 Delete Session/s that are extras and not needed.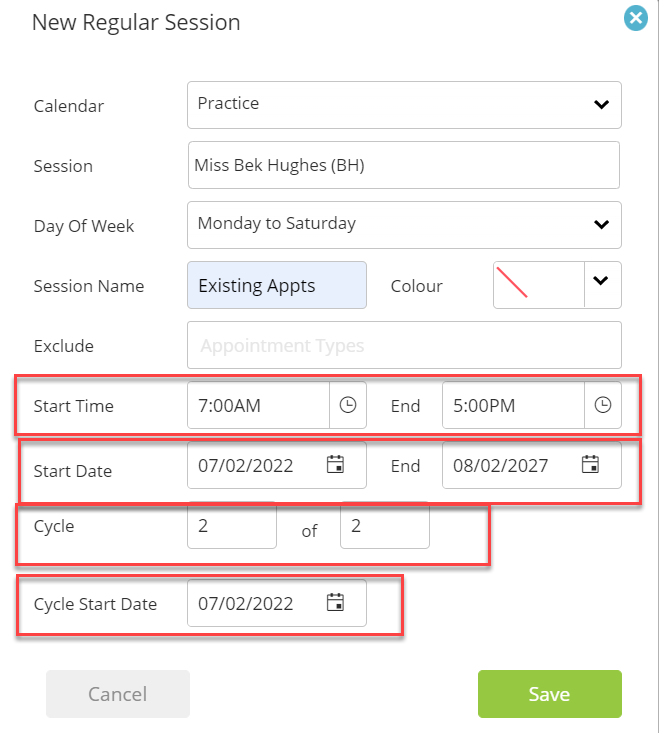 The second Session Cycle. (Week 2)

You have successfully completed another MediRecords Tutorial.