MediRecords is SHA-2 Ready
Sometimes you need to update your certificates in MediRecords that are used to access your integrations i.e. My Health Record. This guide is going to walk you through how to update your MediRecords NASH certificates, these certificates relate to My Health Record access and E-Prescribing for patients.

Obtaining a new certificate:
Firstly you will need to log in to your PRODA account and request for an update to your NASH certificate.
Select Go to service on the HPOS tile.
You may need to complete the linking process to proceed.
Proceed as individual only
Select My programs.


Select Healthcare Identifiers and My Health Record tile.


Select Healthcare Identifiers - Manage existing records.


Select My organisation details.
Note: If connected to multiple organisations you will first need to select the required organisation record.


Select the Certificates tab.


If your certificate has not expired click Renew, otherwise select Request a NASH PKI certificate from the task list.


Select your software product version from the first drop down list. This list contains software product versions that are SHA-2 ready. If you cannot locate your software from the drop down list, please select the most appropriate reason from the second drop down list:

Select MediRecords or
I wish to select my SHA level explicitly: and choose SHA-2 (MediRecords is SHA-2 ready)



Enter a mobile number. When the certificate is ready to download you will receive a text message to the mobile number provided.


Tick the check box to confirm you have read and understood the terms and conditions.


Save changes and submit.


Once you have received a text message, your certificate is ready to download. Log into HPOS to download the certificate. The PIC is used during the installing of the certificate.


Download the file onto your computer in an easy to find spot.
Uploading the NASH certificate:

1. In MediRecords, navigate to More > Settings > Configurations Settings > Select Practice Name > Health Identifiers to connect with the Health Identifier Service for IHI and My Health Record.

2. Enter in the unique PIC then click Select File and navigate to where you saved your certificate locally on your machine and select it.

3. Select Save.

4. You should get a blue box saying this certificate was updated successfully.
If you receive an error that says 'PIC does not match certificate', please refer back to PRODA to confirm the PIC.

5. Repeat step 1-3 in the eHealth section to enable e-Prescribing.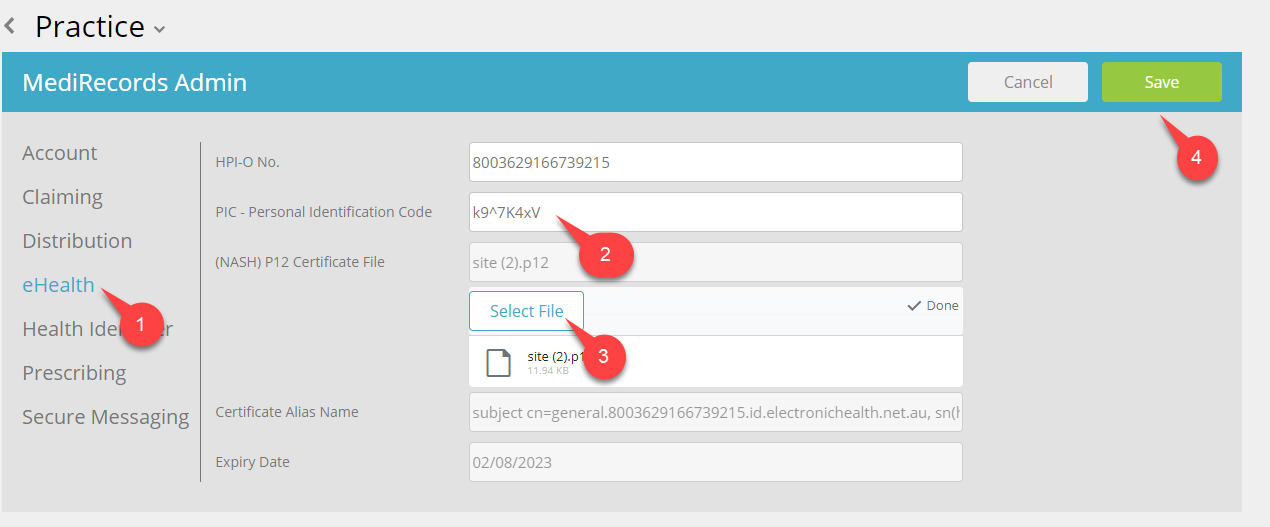 5. Select Save.