This article is going to walk you through how to create a new template for invoice quotes and receipts.
This article can benefit Practices who wish to add in their own banking details on to invoices for patients to have an extra way to pay.


Gather data for new template
The easiest way we have found when you want to create your own template is to copy another template and paste that data into a new template and just add to it to make it unique to the Provider or practice.

1. Navigate to More > Recourses > Letter Templates.
2. In the search bar input Invoice and search.
3. You will be displayed with a list of matches please select the share column to ensure all Community set invoice templates are all showing together (community lets you know that this is the template MR have provided):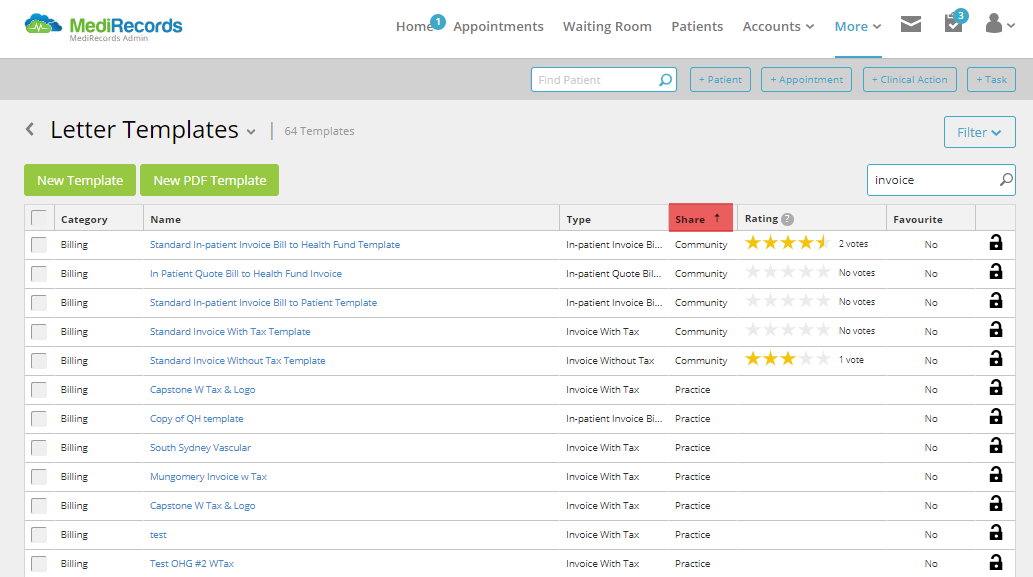 4a. Tick the box next to the invoice template you want to copy:


b. Select Preview > Copy the entire template: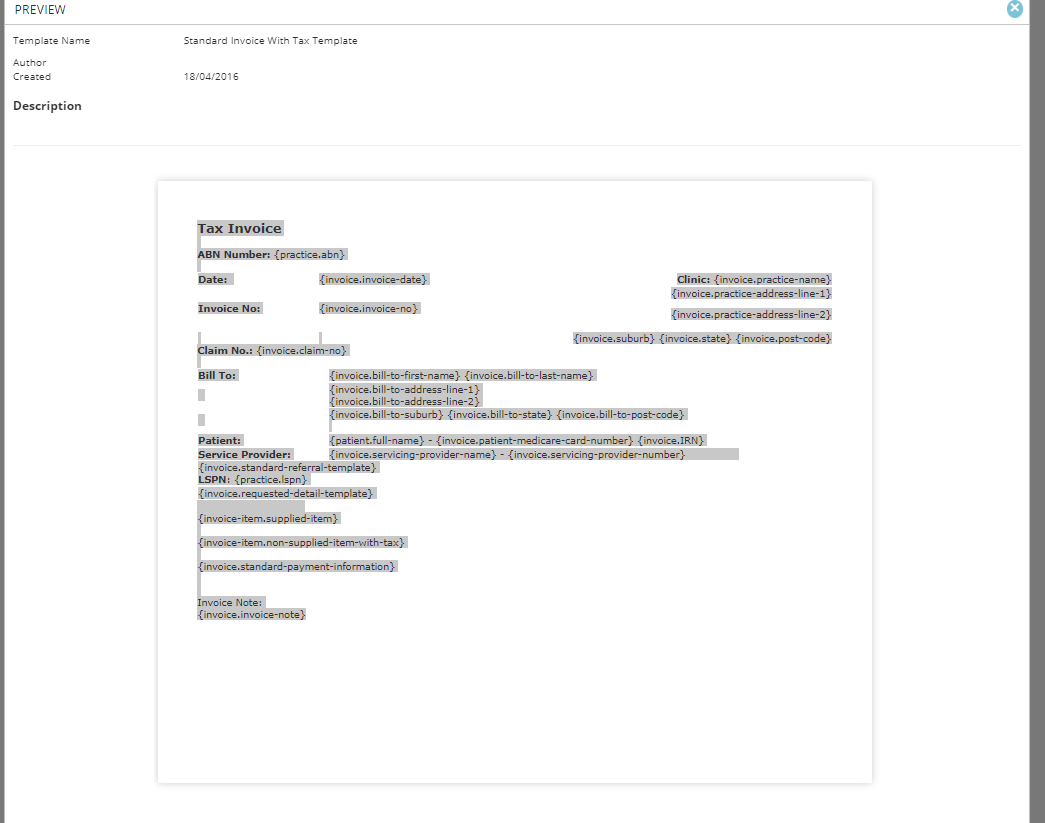 c. If needed paste this info in another document (WORD for example) to keep a record of it and not loose it > Close out of this template screen.


Creating the new Invoice Template
1. In More > Recourses > Letter Templates > Select New Letter Template.
2a. A Pop-up will appear for you to fill out the type of Template you want to create, fill out each field in the pop-up correctly to ensure it is easy to locate.
b. Category: Billing
c. Type: *This will depend on the type of invoice you want to create whether it is a invoice with or without tax (STD invoice) or an In-patient quote billing to either the patient or Heath Fund.*
d. Sharing: Practice
e. Name: Give your new invoice quote a easy to locate name.
f. Description: Give a description of the type of template it is.
Example shown below of how to fill out this pop-up specifically for Billing templates: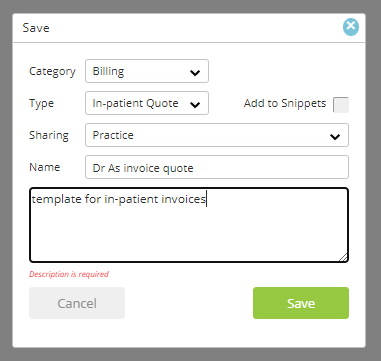 3. After you have filled out this pop -up select Save
4. You will then we able to start editing/creating a new custom invoice template > Paste all of the information copied from original invoice template: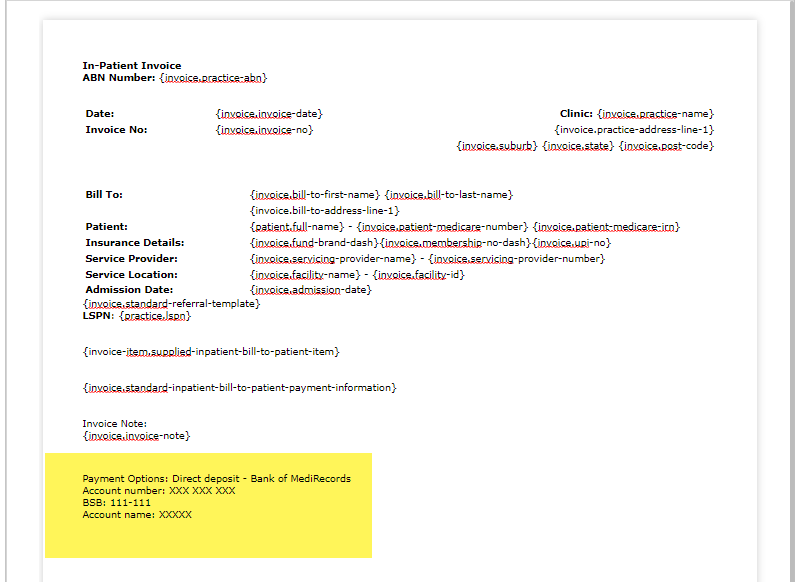 5. After you have pasted all of the information needed for this invoice template you can then add to it to make it customised to that provider or practice.
6. As shown above in the highlighted part is an example of information providers want added to an invoice quote > once everything is added to the template ensure it is all saved and close out of this window.


Assigning the new template to Providers Preferences
1. After the template has been created you will need to assign it to either that specific provider or All providers.
2. More > Settings > Subscription Details > Users > Search relevant User > tick box next to their name > Configure > Invoices: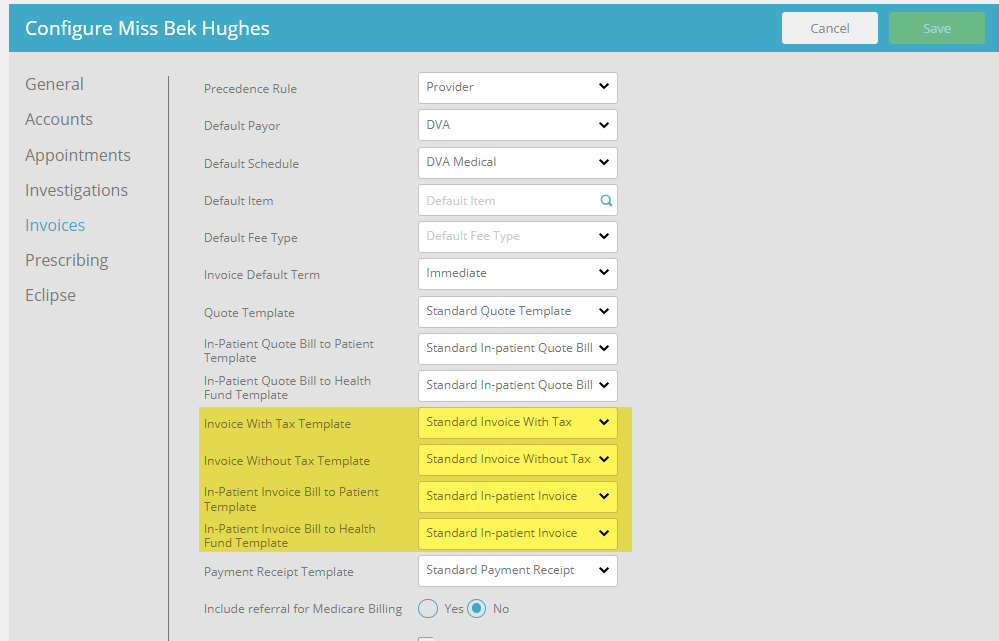 3. Depending on the type of invoice you created and whether it was save as a Standard invoice with Tax or a In Patient Invoice bill to Patient template, you will select that drop down and then that newly created template will appear to select and then ensure to Save.
4. We recommend to trial this out on a test patient and create a test invoice that will use this specific new template and see if it displays the way you want.


You've completed another MediRecords Tutorial. You should now be able to create a new user in your practice. If this is not what you're looking for, head back to our knowledge base and search for another article.
For urgent assistance, please contact MediRecords support on 1300 103 903 during business hours.