Services Australia recently introduced Web Services to replace the existing "Server Adaptor" technology which had been in use for some time.
This is a newer technology that allows users to securely share data to various Services Australia entities.
Authentication will verify an individual's identity and organisation against the Australian Business Register via a highly secure system called Provider Digital Access (PRODA). PRODA provides a higher level of security than PKI certificates and is fully digital and portable across web enabled devices.
This means that organisations will no longer need to apply for and maintain a PKI certificate, and MediRecords will host and maintain a 'Vendor PRODA Device' on a server level.
New Providers will need to continue to ensure that a HW052 form is completed and processed before claiming to link the Provider number to the Minor Site ID.
There will be a few changes that you will see in MediRecords:
OPV, DVA, and Health Fund checks
Medicare will now return a more descriptive response when verifying a patient's Medicare, DVA, or Health Fund number. For example, where a Medicare check may have previously failed due to incorrect demographic details, the new style of response will indicate what information had failed the check, such as date of birth.

Also, if a Patient's Health Fund details have been entered, the verification status of this will be included in the response message automatically whenever a Medicare or DVA check is done.
Claiming Configuration
The claiming configuration has been simplified, and options to upload PKI certificates have been removed now that they are no longer necessary.
Also, Web Services removes the ability for Patient Claim - Store and Forward (PCS). Patient claims will get transmitted in real-time, so there will no longer be an option to toggle Activate Medicare PCS.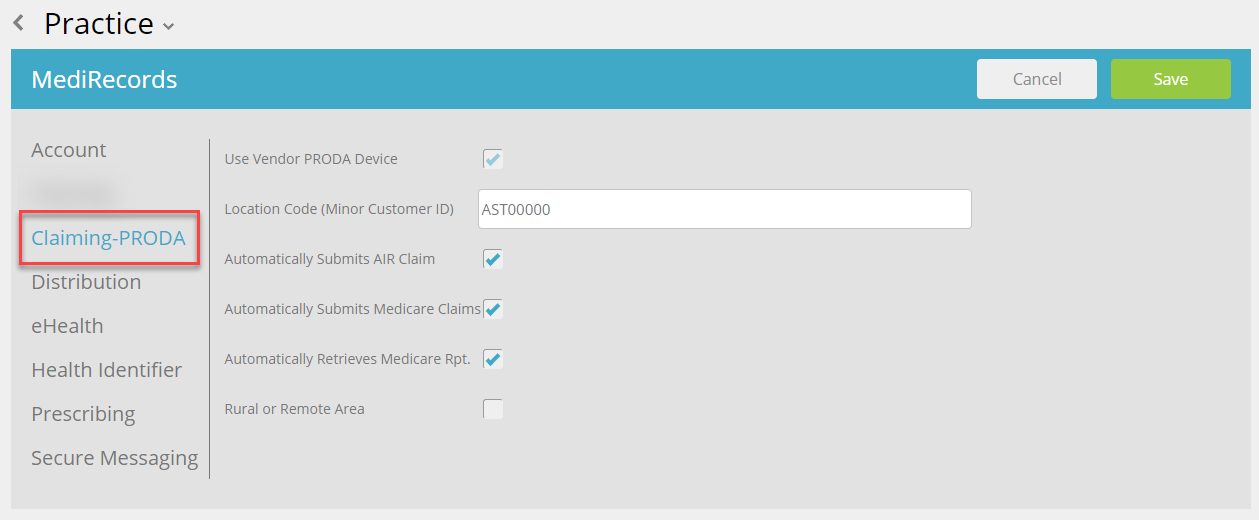 Medicare, DVA and ECLIPSE claiming
When Submitting a Claim, some new fields replace the existing information, including Servicing Provider, Payee Provider, Facility ID, and Service Type


In the In Progress view of Claiming, the Claim ID will now be issued by Medicare instead of MediRecords.
If a Claim ID populates in the Claim column, this indicates that Medicare has successfully received the claim. Pending and Rejected claims will not have Claim IDs as they have not transmitted to Medicare.

The message displayed as the reason for a Rejected status (by hovering over the 'i' icon) are also more descriptive as to the reason for rejection.

Australian Immunisation Register (AIR) Claiming
In the AIR Claiming window, any failed claims will come with a detailed reason in the AIR submission report, suggesting what needs to be fixed, before attempting to send the claim again.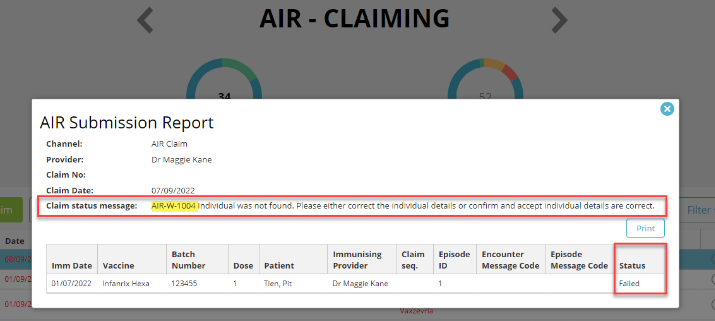 If a reason like above is received, but the Provider is completely sure of the details supplied, they can bypass this Failure by clicking the new Accept and Confirm button to continue to transmit to AIR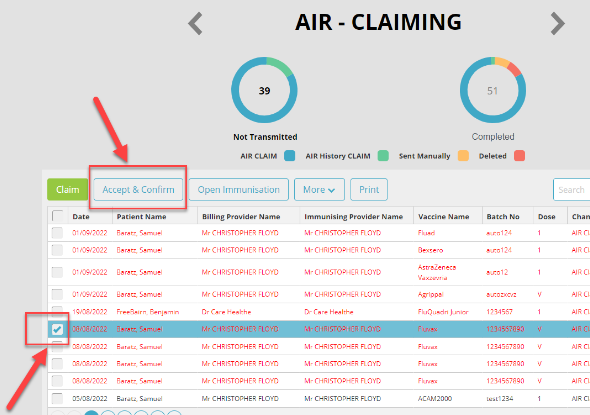 School (Student) ID will be transmitted from MediRecords to AIR.

The country code must be chosen if Administered Overseas is ticked.
This can be searched by both Code and Country name.